Coming Back from a Cult
Dr. Julie Barrier, Preach It Teach It
Monday, September 19, 2011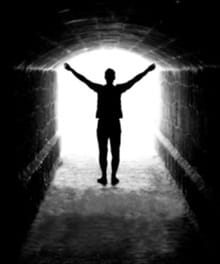 How could I be so blind? Why did I not see the signs? Everyone around me knew I was in over my head, and they were plotting an intervention. Cults are insidious - even for long-time followers of Christ.
I was a happy, albeit complacent churchgoer from the get-go. I started chucking graham crackers at the nursery ladies before I could talk. We never missed a Sunday at Cockrell Hill Baptist Church. We had our own pew and everything. God help the poor visitor who sat in our spot! I invited Jesus into my heart at the ripe old age of six, and my family scrubbed the muddy faces of Kathy, my little sis, and me until they shone. If God had brownie points, we were racking them up. The only Sundays we missed were when we contracted the three biggy kiddie diseases: measles, mumps and chicken pox.
My bulletin-coloring turned into gum-chewing into hand-holding with the hottest boy in the youth group. I cruised along with nominal commitment and blithe ignorance of Scripture despite the concerted efforts of my pastors to pound basic theology into my thick little noggin. I was the typical Baptist good girl. I kept my nose clean, lived under the radar and followed the rules: don't drink, smoke or chew, or go with boys who do. I know I loved Jesus, but we were distant acquaintances - I always held Him at arm's length.
When I left my well-insulated, happy family and trotted off to Baylor University, I didn't like the girl I saw in the mirror. She seemed selfish and shallow to me - and very alone. The emptiness of my spiritual life overwhelmed me. The Jesus Movement that swept through the university campuses around the country hit the Baylor student body like a ten-ton truck. Prayer groups sprung up in dorm rooms and campus lawns. Even tent revivals (a practice long-abandoned in the 1950's) were held by student preachers passionate about seeing God's fire fall. Great Bible teachers like Josh McDowell, Bill Gothard and Tim LaHaye launched their ministries. Campus Crusade for Christ spread like wildfire as Bill Bright challenged college students to reach the world with the gospel. It was a great time to be alive.
One crisp fall evening I happened onto a small prayer meeting in the Baylor prayer chapel. Students were sharing around the circle and I told them how empty and hollow my life felt. I told them I knew Christ, but I wanted more. Robert, the group's leader, told me I needed more of the Holy Spirit, and so I prayed for the baptism of the Spirit, and for His gifts to operate in my life. I didn't realize at the time that the Holy Spirit was a person, and that I already had all of Him. I just needed to let Him have all of me. I experienced the filling of the Spirit in those moments, the first of many times I have prayed for Jesus to be Lord of every part of my life.
For the first time, I began seeking God earnestly. Soon after I met my preacher-boy husband, Roger. We began pastoring a small country church in Penelope, Texas (a town so small, it's not even on the map!). Roger preached and I played piano and sang at every service. We visited their sick, baptized their children and buried their dead. Vacation Bible School was pretty much a two-man operation, except for Mrs. Baird who brought the punch and cookies. Partnering in ministry with the man I loved was amazing. I still marvel that we were able to pastor a church when he was 22 and I was 18! What a privilege!
My quiet times with God were incredible. I filled journal after journal with insights from the Bible - a book I had hardly touched growing up. Our campus prayer meetings lasted long into the night. I remember sensing that God was speaking to my heart and walking closely beside me every day. What an amazing journey. But when Roger left for seminary the next fall, I felt that I had lost my moorings. I missed him so much. Many of the churches I visited were warm and inviting, but I needed direction and comfort. I wanted a pastor who would speak to me from God.
Recently on Spiritual Life
Have something to say about this article? Leave your comment via Facebook below!
advertise with us
Example: "Gen 1:1" "John 3" "Moses" "trust"
Advanced Search
Listen to Your Favorite Pastors