Coming Back from a Cult
Dr. Julie Barrier, Preach It Teach It
Monday, September 19, 2011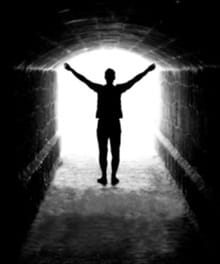 I found the guy. Brother Smith (not his real name) pastored a wildly demonstrative congregation, and people prophesied over me twice a week. I didn't need to listen to God any more, my fellow Christians told me exactly what to do (and what not to do). Pastor Smith would scold us if we missed a service, and I had this gnawing feeling growing deep inside that God was mad at me all of the time. I felt that I had disappointed Jesus if I wasn't fasting and reading the Bible constantly. I withdrew from friends and family, dismissing them as carnal and deceived.
Don't get me wrong. Because I was reading the Bible, I learned more Bible in those years than at any other time in my life. Pastor told me how to dress, and that I should give all my money away. My weight plummeted down to eighty-nine pounds and I felt that nothing I could do would appease God's disapproval of me. Brother Smith and the members of his clan were my only safe place. My teachers, friends, parents and fiancée didn't know anything about living a true Christian life. I was only close to Jesus when I was close to my pastor.
Finally, Roger gave me an ultimatum. I could leave the church and become his wife, or I could remain in the "family" forever. I knew I loved my fiancée. I also felt called to serve alongside him in the ministry, so I had to make the break. The next Sunday evening after service, I sat down with the pastor and told him of my decision. He shook his head in consternation and quoted a Bible verse:
"In his pride the wicked does not seek him; in all his thoughts there is no room for God." Psalm 10:4 NIV
His words were like a knife to my heart. Pastor turned and walked away. I felt like I had been kicked in the stomach. I felt so lost, so condemned. But after a very long time of praying, wise counsel and patience from Roger, I began to see clearly. I had been duped. I was in a cult (even though it had all the trappings of a great church). The god Brother Smith was preaching was not the God of the Bible. He was a demanding, accusing condemning taskmaster who was perpetually disappointed with me (who does that sound like?). I was living a life of legalism and asceticism, and I felt trapped. Because of my faulty view of God, I didn't think He would hear or answer my prayers, and the pastor's words burned in my ears every day. I had to forgive myself to truly experience God's forgiveness and grace. I needed discipleship and spiritual warfare counseling to deal with the lies I had believed and to recover my peace and joy in Christ.
I learned a thing or two from my encounter with a false teacher, and I'll share my thoughts with you.
1. Beware of the "wolf" in sheep's clothing who tells you he is the only one who hears from God. These charismatic leaders are like bug lights that draw you in only to destroy your spiritual life. They insinuate themselves into your trust circle and become more and more controlling.
Proverbs 18:1 "A man who isolates himself seeks his own desire; he rages against all wise judgment." NKJV
2. God promises to lead you when you are His child. It's the Holy Spirit's job to guide you into all truth.
Psalms 25:9 "He guides the humble in what is right, and teaches them his way." NIV
3. Carefully evaluate the view of God that is being taught. Is it based on Scripture?
1 John 4:16-20 "God is love. Whoever lives in love lives in God, and God in him. In this way, love is made complete among us so that we will have confidence on the day of judgment, because in this world we are like him. There is no fear in love. But perfect love drives out fear." NIV
Recently on Spiritual Life
Have something to say about this article? Leave your comment via Facebook below!
advertise with us
Example: "Gen 1:1" "John 3" "Moses" "trust"
Advanced Search
Listen to Your Favorite Pastors