Don't Let Your Weaknesses Keep You from God
Whitney Hopler, Live It Editor
Monday, January 31, 2005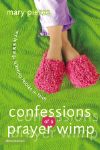 You don't have to be a spiritual giant like a theologian, Bible scholar, or prayer warrior to get close to God. He's willing to meet you wherever are - even smack in the middle of a life filled with flaws and mistakes. Your life may seem ordinary to you, but God's love for you is extraordinary. He loves you deeply, no matter what weaknesses you may have.

Here are some ways you can grow closer to God even if you're fumbling through life:

Focus on what matters most.  Don't let your to-do list's nagging voice drown out God's voice calling you to spend time with Him on a regular basis.  Make time for relationships - with God, family, and friends - and let things that don't matter as much just slide.

Unplug your life for a while.  Take time away from technology that demands you be available to others all the time.  Take a break from your cell phone, fax machine, pager, and e-mail and enjoy the peace and quiet.  Turn off the television, radio, and computer so you can spend time relaxing and thinking.  Celebrate how taking time to reflect helps you hear God's voice better.

Clear out clutter.  Get rid of stuff you don't really want or need by giving it away, selling it, or throwing it out.  Create extra space in your home and workplace.  Lose the attitudes that clutter your mind - all the thoughts that don't line up with God's truth.  Remember that with God, all things are possible.  Ask Him to give you new, healthy attitudes, like the fruit of the Spirit (love, joy, peace, patience, kindness, gentleness, goodness, faithfulness, and self-control).  Stop complaining and ask God to give you the perspective you need to be positive.  Clear some space in your schedule so you'll have some free time.

Say "no" sometimes so you can say "yes" at the right times.  Have the courage to say "no" to requests for your time and energy that don't fit into your unique mission in life.  Ask God to clarify what that mission is for you, so you can evaluate each request against it.  Ask yourself, "Is this something only I can do?"  If not, and it doesn't line up with your life's mission, let someone else do it.  Be willing to say "yes" to the right assignments, but before you do agree to them, take time to pray and check your calendar first.

Sense God's presence all around you.  Realize that God is with you everywhere, all the time.  Pay attention to His presence wherever you happen to be.

Get adequate sleep.  Don't deprive your body of the full amount of sleep it needs each night - usually 7 1/2 to 9 hours for adults.  Know that you will function at your best only if you've had enough sleep.  Make sleep a high priority.

Pursue inner beauty rather than outer beauty.  Don't waste too much time and energy focusing on your physical beauty, which will never last.  Instead of visiting a body spa, take a spiritual retreat and let God give you His beauty treatments, such as the dermabrasion of confession and the soaking bath of time in His Word.  Know that every encounter with God will change you from the inside out, leaving you truly radiant.

Don't bother to make unrealistic resolutions.  Decide to accept God's grace.  Give yourself permission to do less and take longer doing it.  Eat dessert first.  Thank God for the life He has given you, and decide to enjoy it.

Recently on Spiritual Life
Have something to say about this article? Leave your comment via Facebook below!
advertise with us
Example: "Gen 1:1" "John 3" "Moses" "trust"
Advanced Search
Listen to Your Favorite Pastors