Experiencing Life with the Beautiful Outlaw
Whitney Hopler, Crosswalk.com Contributing Writer
Monday, October 03, 2011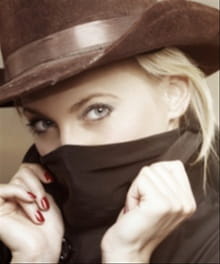 Get to know Jesus' cunning. Jesus has a brilliant strategy for reaching out to people: He never forces them to follow Him, but instead shows them a compelling view of love and holiness in action, which inspires people to seek relationships with Him. Every day is a new opportunity to keep seeking Jesus and growing closer to Him.
Get to know Jesus' humility. Jesus chose to leave the glory of heaven and temporarily sacrifice tremendous power to be incarnated as a man on Earth, and His willingness to die a horrible death on a cross to save people from their sins also demanded extreme humility. Just as Jesus humbled Himself to obey His Father's plan, be willing to humble yourself when you sense God calling you to do something, so you can faithfully respond to His call.
Get to know Jesus' truth. Jesus was completely faithful and true, no matter what. Rather than worrying about what other people will think of you if you say or do something that you sense God wants you to say or do, choose to respond faithfully, speaking or acting in ways that reflect the truth. Ask the Holy Spirit to renew your mind to purify your motives, so you can serve God for His glory, not yours. Resist telling "little white lies," even when others around you or doing so. Pray for the courage you need to always tell the truth.
Get to know Jesus' beauty. Jesus is beautiful because He puts love in action. Aim to follow His example, and you will grow more beautiful, too.
Learn how to love Jesus. Jesus welcomes you to enjoy a close relationship with Him. He's on a first-name basis with you: "Jesus," not "Mr. Christ." So forget about having to use special language or tones when you pray; simply be yourself with Him. Also, be careful not to confuse doing tasks for Jesus with loving Jesus. First, focus on investing time and energy into your love relationship with Jesus and growing closer to Him. Then, your Christian service will naturally flow from the love that you and Jesus share.
Let Jesus be Himself with you. Remove whatever limits you've set on how you expect to experience Jesus in your life. Invite Jesus to be Himself with you, even when that means surprising you or taking you out of your comfort zone. Consider what you think Jesus thinks about you: If that doesn't reflect unlimited love, your own brokenness is distorting your perspective on Jesus, and you need to pray for healing so you can see how much Jesus truly loves you.
Clear away the religious fog. Consider whether or not you really experience Jesus in your church in the same way you experience His personality when you read the Gospels. If not, then make whatever changes God calls you to make so you can worship Jesus as He truly is.
Let Jesus' life fill your life. Every day, decide to resist the urge to rely on your own efforts to live faithfully, and place your trust in Jesus in a fresh way. Invite Jesus to fill your soul with His life so that it will flow through you, empowering you to live faithfully. When you do so, the incarnation continues in you, as Jesus transforms your personality so that you become all you can be.
Adapted from Beautiful Outlaw: Experiencing the Playful, Disruptive, Extravagant Personality of Jesus, copyright 2011 by John Eldredge. Published by Faith Words, a division of Hachette Book Group, New York, NY, http://www.hachettebookgroup.com/.
John Eldredge has written 12 books, including the bestsellers Wild at Heart (Thomas Nelson, 2001) and Captivating (Thomas Nelson, 2005), written with his wife, Stasi. After earning his master's degree in counseling from Colorado Christian University, Eldredge worked as a counselor in private practice before founding Ransomed Heart Ministries in Colorado Springs, Co. Ransomed Heart hosts numerous events annual in the United States and abroad, helping people discover the true heart of God and empowering them to share the message with others. Visit the website at: http://www.ransomedheart.com/.
Whitney Hopler is a freelance writer and editor who serves as both a Crosswalk.com contributing writer and the editor of About.com's site on angels and miracles (http://angels.about.com/). Contact Whitney at: angels.guide@about.comto send in a true story of an angelic encounter or a miraculous experience like an answered prayer.
Publication date: October 3, 2011
Recently on Spiritual Life
Have something to say about this article? Leave your comment via Facebook below!
advertise with us
Example: "Gen 1:1" "John 3" "Moses" "trust"
Advanced Search
Listen to Your Favorite Pastors