Arrested... by God's Grace
Eva Marie Everson, Crosswalk.com Contributing Writer
Wednesday, February 09, 2011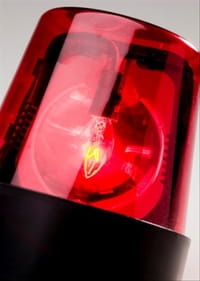 To say that January 31, 2009 is forever engrained in the minds of Kevin and Keely Parker* is putting it mildly. It was a Saturday morning; Kevin was scheduled to be at work about an hour from their suburban home north of Orlando where they live with their two daughters. For once, he left in time to arrive early. He merged his minivan onto I-4 West, joined a group of cars and did what most drivers do on this particular interstate: he sped.
"I was doing about 75 with everyone else," he says, "when I noticed a Florida Highway Patrol car getting off the John Young Parkway onto I-4."
Like the rest of the cars, the marked car was beating the speed limit. In fact, it stayed about two cars ahead of Kevin for several miles.
"The other cars passed the patrol car and then it was him and me in the fast lane. I noticed he was slowing down; I assumed it was to take the left exit onto Kirkman. And I admit, I jerked my car around him with a little bit of an attitude."
The unfortunate happened. Instead of exiting, the patrol car zoomed up behind him, flashed its lights, and Kevin did what any good citizen would do. He pulled over onto the side of the road.
"I dropped my window about halfway and waited for what usually comes next: the officer sits while he calls in the license plate and waits for a background on the driver and car. But instead, the officer barreled out of his car and up to mine. He took no precautions. One second he wasn't there and the next he was."
What came next is the kind of stuff Twilight Zone episodes are made of. The officer demanded Kevin's license and registration to which Kevin jovially replied, "You're really gonna give me a ticket for this?"
"License and registration."
Kevin, an attractive, well-groomed man who, that day, wore a pair of slacks with a logoed shirt and windbreaker says now that he honestly thought that with a little mano-e-mano conversation, he'd soon be happily on his way toward where his job was taking him. But instead, the officer asked, "Are you refusing?"
Kevin realized this had gone too far. He shook his head, no.
"Are you refusing?"
"No," Kevin said. "I'll give you whatever you want." He kept his hands on the steering wheel so they were in plain sight. The problem he now faced was how to get his wallet out of the back pants pocket without the officer becoming more agitated.
"Get out of the car," the officer demanded.
For a traffic violation? "No," Kevin refused, feeling that if he did, he may be putting himself at risk.
Another Twilight Zone moment: the officer called for backup, then reached into the window to unlock the door.
"At this point, I'm gripping the wheel. I'm still buckled up. The officer grabbed my coat and shirt and attempted to pull me out of the car. I had just bought the eyeglasses I was wearing. They were expensive, so I turned away to pull them off and place them on the passenger's seat. At the same time, the officer pulled out pepper spray and sprayed me." Kevin covered his eyes to avoid any damage.
Kevin said to the officer, "My seatbelt is on."
The officer grabbed Kevin's left arm, twisted it. "Get it off," he demanded.
It was then Kevin did the one thing that would land him more infamy than he'd ever imagined that morning. Spying his cell phone on the dashboard, he reached for it and dialed 9-1-1.
"As soon as I saw the call was connected, I started yelling my name, location, and that I needed help. I said, 'Call my wife, call an attorney, call the [local news stations]! I'm a U.S. citizen! I need help!' All the while the officer has taken off my seatbelt and is dragging me out of the car. I jumped up on the door jam of the minivan and started waving at traffic, trying to get someone to stop and help me."
Recently on Spiritual Life
Have something to say about this article? Leave your comment via Facebook below!
advertise with us
Example: "Gen 1:1" "John 3" "Moses" "trust"
Advanced Search
Listen to Your Favorite Pastors