Find God in Unexpected Places
Whitney Hopler, Live It Editor
Tuesday, August 23, 2005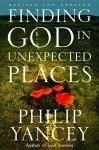 All too often, we limit our search for God to what takes place in our churches. But He is at work everywhere in the world. And, if you're looking, you can find Him when you least expect it.
Here's how you can find God in unexpected places:
Ask God to help you see through eyes of faith. Understand that in the world of faith, some things have to be believed to be seen. Ask God to increase your faith, and train yourself to look for traces of Him at work.
Keep your mortality in mind. Look beyond our culture's obsession with the physical body. Rather than spending most of your time and energy trying to look young and fit, accept that your body is temporary. Take good care of it, but focus mostly on spiritual growth, since your soul is eternal.
View sex not as a rival to spirituality, but as something that points toward it. Realize that sexual longings are actually yearnings for transcendence and intimacy that can only be fully satisfied in a relationship with God. Don't let sex stop just at skin level; go deeper, into the soul. Know that sex is not simply an end in itself, but rather a gift from God that should be stewarded faithfully.
Look up. Ask God to give you His perspective on situations so you can keep the big picture in mind and avoid being weighed down by smaller concerns. Spend time outside in nature regularly, and let it give you a greater sense of awe for the Creator. Wander away from streetlights and look beyond them to the stars. Let the glory of the natural world - both the beauty of its design and the horror of its fallen state - overtake you so that the details of your life's routines seem less urgent. Take time to thank God for His enormous efforts to restore what sin had spoiled in the world.
Ponder the Incarnation. Don't just think about God's Incarnation at Christmas; ponder it throughout the year. Remember that God chose to enter time and space and put on flesh to live among us because of His great love. Know that His Spirit is with you in all circumstances.
Find God on the job. Know that your work is important to God - no matter what type of work you do. Expect Him to use your efforts to bring about good. Seek to use your God-given talents to the fullest and put forth your best effort in every assignment, whether big or small. View your work as a ministry even you work in a secular field. Remember that God is your ultimate boss.
Don't let media substitute for relationships with real people. Realize how easy it is in today's world to spend most of your time interacting with media (such as television and the Internet) rather than with live people. Limit the time you spend with media so you have plenty of opportunities to build relationships with other human beings. Reach out to people God puts on your heart - people who may be lonely and not know how to reach out to you. Remember that God has placed a desire for real relationships within all of us.
Recently on Spiritual Life
Have something to say about this article? Leave your comment via Facebook below!
advertise with us
Example: "Gen 1:1" "John 3" "Moses" "trust"
Advanced Search
Listen to Your Favorite Pastors