How to Develop a Sense of Wonder for God and His Work
Whitney Hopler, Crosswalk.com Contributing Writer
Tuesday, November 20, 2012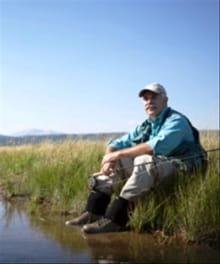 Editor's Note: The following is a report on the practical applications of Margarter Feinberg's new book, Wonder Struck: Awaken to the Nearness of God (Worthy Publishing, 2012).
God is constantly offering us wonderful glimpses of His presence with us in our world. Yet, too often, we don't notice because we're so preoccupied with the details of our lives that we don't look beyond them to what God is showing us.
If your focus has shrunk down to just trying to get through each day, it's time to enlarge your perspective so you can enjoy an abundant life that's filled with wonder. Here's how you can develop the sense of wonder that God wants you to enjoy:
Pray for wonder. Ask God to reveal more about Himself and His work in the world to you, and to give you a greater ability to notice what He wants to show you.
Discover the wonder of divine expectation. God hopes that people of all ages will approach him with childlike wonder. Reflect on the faith, enthusiasm, and receptivity that children display toward God and His work. Just as children expect the best from God, decide to do the same yourself. Eagerly anticipate that, whenever you invite God to pour His miraculous power into your life, He will give generously and gracefully answer your prayers in surprising and wonderful ways. Expect God to show up in your life, look for Him, and celebrate what you see.
Discover the wonder of God's presence. God has promised to always be with you, and even though His presence is invisible, you can sense it spiritually. It's easy to sense God's presence when your life is going well and you're doing something exciting, such as hiking outdoors in a beautiful park. But remind yourself that God is with you even during the worst circumstances, as well. When a crisis shocks you and you feel like asking "Why?" decide to ask "Who?" instead: Who will constantly be with you, helping you every step of the way? God will. Focus on that, and pursue God when you're dealing with troubling or challenging circumstances. Once you become aware of God's presence with you during tough times, you can laugh with joy instead of crying, because you'll know that God's power will help you overcome your circumstances.
Discover the wonder of creation. After creating the world, God declared that every part of it was good, and creation reflects the goodness of God's own nature. Spending time in the natural world that God has created will make it possible for you to experience and comprehend God more. Incorporate regular time outdoors into your life however you can, such as by setting your alarm early on some days to make sure you're up in time to watch the sunrise, or spending your lunch hour at work eating outside.
Discover the wonder of rest. Getting enough rest will refresh your physical body, expand your mental capacity, and increase your spiritual awareness. Ask God to help you change your lifestyle so that you're living with life-giving rhythms at a sustainable pace. Observe a Sabbath of day of rest each week, as well.
Discover the wonder of prayer. If your prayer life isn't fresh, you're missing out on wondrous encounters with God that you could be experiencing through prayer. Get rid of clichés, awkward language, and any other stale components of your prayers. Refuse to take prayer for granted and remind yourself that it's an awesome opportunity to communicate with the Creator of the universe. Then change the way you talk to (and listen to) God so your conversations with Him are fresh.
Recently on Spiritual Life
Have something to say about this article? Leave your comment via Facebook below!
advertise with us
Example: "Gen 1:1" "John 3" "Moses" "trust"
Advanced Search
Listen to Your Favorite Pastors