How to Develop Character that Leads You Closer to God
Whitney Hopler, Crosswalk.com Contributing Writer
Thursday, May 08, 2014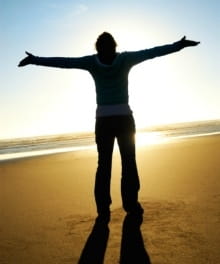 Editor's Note: The following is a report on the practical applications of Helen Cepero's new book Christ-Shaped Character: Choosing Love, Faith and Hope (InterVarsity Press, 2014).
The Bible describes three key virtues that lead people closer to God: faith, hope, and love. The more you pursue those virtues, the more you'll develop a stronger character, so that every day you can grow closer to God. Putting faith, hope, and love into action in your life will help you become more like the part of God who came to Earth to show us how to live: Jesus Christ.
Here's how you can develop character that leads you closer to God:
Choose to live as God's beloved. Receive the complete and unconditional love God is offering you. You don't have to do anything to earn God's love or worry that anything you do will cause you to lose his love. So, secure in that knowledge, focus on being a loving person rather than on doing certain things to try to influence how God feels about you. Whenever your actions are formed out of your inner critic's voice, you're moving away from God and his love. But whenever you respond to God's love by letting it inspire your actions, you're moving closer to your identity as God's beloved. Know that you are worthy in God's eyes and safe in God's presence.
Receive other people through compassionate hospitality. As you build loving relationships with other people, you'll encounter the Holy Spirit working between you, drawing you all closer to God as you grow closer to each other. Focus on listening to people well, by creating an atmosphere of safety and mutual respect without judging or making assumptions, and listening for understanding rather than debating topics. Be intentional about reaching out to people who are different from you (economically, racially, generationally, etc.) and those who are often marginalized in society (such as disabled people, immigrants, and the elderly). Seek to simply be with others even more than trying to do something for them. Enjoy their company and get to know them well.
Forgive as you are forgiven and learn to love the unlovable. Let your gratitude for how God has forgiven you for your sins inspire you to obey his command to forgive other people who sin against you. Ask God to teach you whatever he wants you to learn from the pain you experience when others hurt you, and then offer that pain to God as an act of worship, trusting him to guide you through the healing process. Remind yourself regularly that you're just as prone as anyone else to make mistakes in this fallen world, so you must rely on God's grace just as much as others do. Let that reality humble you and motivate you to renew your relationships with loving words and actions. Do all you can each day to reconcile yourself with God and the other people whom he has made, pursuing peaceful and loving relationships as far as it depends on you to do so.
Follow Jesus rather than your own desires. Jesus invites you to follow him on a journey of faith in which he leads you to leave your known experiences, security, and expectations behind for the adventures he has for you. Consider what specific ways you're longing for more in your life with God right now. Then ask God to show you how you can respond to those longings by pursuing God in new ways. Be willing to take whatever risks God leads you to take and make whatever sacrifices God leads you to make to live and grow to the fullest. Come to know, love, and follow Jesus as your friend, learning to see people and situations from his perspective. Then, over time, your desires will reflect God's desires for you.
Recently on Spiritual Life
Have something to say about this article? Leave your comment via Facebook below!
advertise with us
Example: "Gen 1:1" "John 3" "Moses" "trust"
Advanced Search
Listen to Your Favorite Pastors