How to Embrace Your Identity as God's Child
Whitney Hopler, Crosswalk.com Contributing Writer
Tuesday, April 26, 2011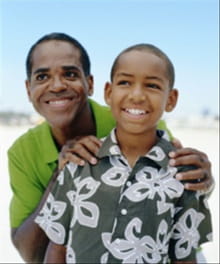 Editor's Note: The following is a report on the practical applications of Trevor Hudson's recent book, Discovering Our Spiritual Identity: Practices for God's Beloved, (InterVarsity Press, 2010).
You've probably heard many times that God loves you. But does your life reflect that reality? If you really lived as God's beloved child, you would notice many of the exciting ways God is at work in your life. That knowledge will then empower you to make decisions that help you fulfill God's purposes for you.
Here's how you can live as God's beloved child:
Draw a picture of God. The picture of God that you have inside your mind profoundly shapes the way you live each day. If you have an accurate view of God, you can enjoy a healthy life. But if some parts of your mental picture of God are distorted, your life will be dysfunctional as a result. So ponder your current image of God and consider how well that lines up with the picture God presents of Himself in the Bible. Remember that God stepped into history as Jesus, so you need to look in Jesus' direction to get a clear picture of God, and keep in mind that Jesus is characterized by unlimited, unconditional love.
Discover who you are. Just as it's important to view God accurately, it's important to see yourself accurately. Your identity is much more than just your temperament, the opinions that other people have of you, or your ability to achieve success in your pursuits. Your real identity is nothing less than God's beloved child, made in God's image, with His Spirit living inside your soul. Read Bible verses that reflect that truth to remind you of who you really are, and relate to other people with the love and respect that comes from knowing who they really are.
Develop a Christian memory. Remember details that help you recognize God's constant presence. Read the Gospels to remind yourself of how God worked through His Son, Jesus. Write down some stories of ways that God worked powerfully in your life in both joyful and painful situations, as well as ways that God has used you to bring hope to other people. At the end of each day, take a few minutes to examine how God has worked in your life during that day.
Receiving the kingdom. God wants you to experience the gifts of His kingdom, but do to receive those gifts, you need to confess your sins, repent, and trust Him to help you move from living selfishly to pursuing God's purposes for you.
Find your sense of belonging in God's family. Realize that you can't truly follow Jesus alone, because He intends for faith to be expressed in community. So join a local church and build close friendships with some people there, encouraging and supporting each other as you grow and serve together.
Become holy. As you yield yourself to God's transforming Spirit, He will help you become the person He wants you to become – someone who is holy, reflecting Jesus' character. Spend some time regularly in solitude and silence so you can listen well to what the Holy Spirit says to you. Also, spend some time regularly with someone you know who is suffering – maybe someone who's ill, or someone who's lonely – and invite God to use that time to help you become a more loving person.
Love those closest to you. The acid test of your faith is whether or not you love people. So give the people who are close to you the gift of listening carefully to them when they share their thoughts and feelings with you. Take advantage of opportunities to help people through loving actions however you can.
Recently on Spiritual Life
Have something to say about this article? Leave your comment via Facebook below!
advertise with us
Example: "Gen 1:1" "John 3" "Moses" "trust"
Advanced Search
Listen to Your Favorite Pastors