How to Find God When He Seems to be Missing
Whitney Hopler, Crosswalk.com Contributing Writer
Sunday, October 09, 2011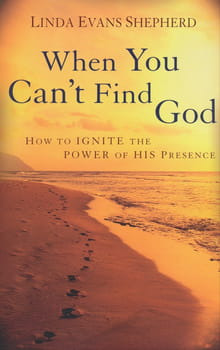 Editor's Note: The following is a report on the practical applications of Linda Evans Shepherd's new book, When You Can't Find God: How to Ignite the Power of His Presence, (Revell Books, 2011).
Trouble hits everyone in this fallen world. Even Jesus suffered while He was here on Earth, and so will you – no matter how much you love God.
But the presence of trouble in your life doesn't mean the absence of God. To the contrary: Trouble may actually help you experience the reality of God's presence in deeper ways, if you respond to it by seeking God.
God is never missing from your life, even when He seems to be. Here's how you can find God and enjoy His presence, despite the trouble in your life:
Find God in your circumstances. Look at your circumstances from God's perspective: as an invitation to draw closer to Him. Choose to trust God's promise that He has a plan to bring good purposes out of even the worst circumstances. Ask God to help you be aware of His presence with you, feel His love for you, show you whatever He wants you to learn from what you're going through, and anoint you with hope.
Derive the strength to endure from key practices. God will give empower you while you go through tough times if you: root out sin from your life so you're not blocking God's work, praise God to invite more joy into your life, seek a closer relationship with God Himself rather than seeking changed circumstances, and focusing on God rather than on your troubles.
Give your troubles to God. God has promised that He will give you rest if you trust Him to handle your burdens, so stop striving to handle them yourself. Instead, give all that's troubling you over to God and follow His guidance every step of the way to deal with your concerns successfully and peacefully. Keep in mind that the troubles in your life will pale in comparison to the riches you'll receive as you draw closer to God.
Stand against evil. The evil that exists in our fallen world may cause you suffering that God doesn't intend for you to go through. So be sure to close any doors in your life through which evil may come. Devoting every part of your life to God every day is the best way to keep evil spiritual forces away from you. Repent and confess of your sins regularly; ask God to help you develop virtues that will mature you (such as humility, patience, and self-control); pray about any hopeless thoughts that enter your mind, asking God to give you the hope you need; and rejoice in God's unconditional love and reliable care for you.
Pray against strife. If conflict with other people is causing you trouble, ask God to help you live at peace with everyone, as far as it depends on you. Rely on God's help to forgive people who have hurt you. Avoid people who continue to cause strife, despite your best efforts to work for peace between you. Surrender any attitudes that cause strife in your own soul (such as bitterness and selfish ambition) to God and embrace His peace in return.
Pray for breakthroughs. When you're dealing with persistent problems, ask God to help you solve them. Pray about your problems consistently until God brings you breakthroughs – either by changing your circumstances, or by empowering you to handle your circumstances in better ways.
Pray for trust. Rather than trying to make circumstances turn out the way you want them to be, seek what's best for you, trusting that God truly does know what's best and will work in your life to bring that about if you invite Him to do so and don't work against Him.
Recently on Spiritual Life
Have something to say about this article? Leave your comment via Facebook below!
advertise with us
Example: "Gen 1:1" "John 3" "Moses" "trust"
Advanced Search
Listen to Your Favorite Pastors