How to Find Your Place in Jesus' Great Story
Whitney Hopler, Crosswalk.com Contributing Writer
Wednesday, May 21, 2014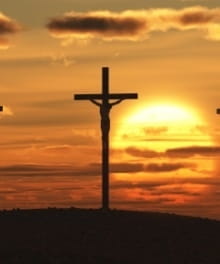 Editor's Note: The following is a report on the practical applications of Charles and Janet Morris' new book Missing Jesus: Find Your Life in His Great Story (Moody Publishers, 2014).
It's possible to believe strongly in Jesus yet lose sight of him in daily life. All too often, believers settle for lives that are far less than the best they could be living because they've put themselves, rather than Jesus, at the center of their lives.
Revolving each part of your life around Jesus will help you discover the purpose for your life and empower you to fulfill it. Instead of wasting your time and energy on lesser, self-absorbed pursuits, you'll be able to find your place in the great story that Jesus is writing in the world. Here's how you can do so:
Recognize who is worthy of your life. Living your life according to your own agenda only leads to a small life, but living your life according to Jesus' plans for you will liberate you to pursue a life that reflects the grandeur of his glory. Ask the Holy Spirit to enlarge your perspective on life each day by reminding you of how awesome Jesus is so you can see that Jesus is truly worthy of your life. Choose to dedicate your life completely to Jesus from this point on.
Learn about Jesus' story from the Bible. Make time frequently to read, study, and reflect on the Bible so you can absorb its truths deeply into your soul and apply them to your daily decisions. Keep in mind that the Bible is all about Jesus, with every book of both the Old Testament and New Testament ultimately pointing to Jesus and his great redemptive work in the world. Pray for the ability to see this great story running through the Bible from beginning to end. Consider how everything you read in the Bible relates to Jesus; doing so will help you avoid missing the full meaning of each passage. Every day, counter the many cultural messages you hear about living a self-centered life with the Bible's message about being a part of Jesus' great story.
Join Jesus in the work he's doing in the world right now. Keep in mind that Jesus isn't just a historical figure; he is a living being who is active right now guiding and empowering Christians to join his work bringing compassion and hope to hurting people and justice to unjust situations in this fallen world. Ask the Holy Spirit to give you fresh doses of faith to help you notice where Jesus is at work around you. Pray for guidance to know which specific ways you can join in that work. Then be willing to sacrifice anything that stands in the way of following Jesus so you can maximize your contributions to the story he is writing in the world.
Relax in your relationship with Jesus. Rest assured that you can count on the grace Jesus gives you to help you in any situation. Derive confidence from the truth that Jesus never expects you to earn his love through doing good, and that nothing bad you do can cause you to lose Jesus' unconditional and complete love for you. When you see that Jesus has provided everything you need, you can swing the totality of your being off yourself and onto him and embrace your core identity as one of God's beloved children.
Pray to God with confidence in the father/child relationship that Jesus has made possible for you. If you're a Christian, thanks to Jesus connecting you to God the Father, you can enjoy an intimate prayer relationship with God. Feel free to talk to God simply – as a child would – and listen for his loving messages to you. Trust that God is taking care of you with strong fatherly love. Ask God for whatever you need and desire, expecting that he will respond to your prayers by doing what's best for you.
Recently on Spiritual Life
Have something to say about this article? Leave your comment via Facebook below!
advertise with us
Example: "Gen 1:1" "John 3" "Moses" "trust"
Advanced Search
Listen to Your Favorite Pastors