How to Follow Wherever Jesus Leads You
Whitney Hopler, Crosswalk.com Contributing Writer
Thursday, July 14, 2011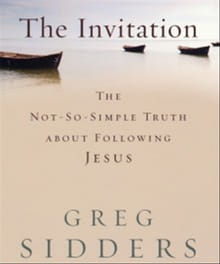 Editor's Note: This article summarizes the practical applications of Greg Sidders' recent book, The Invitation: The Not-So-Simple Truth About Following Jesus, (Revell Books, 2011).
Jesus invites you to follow Him, and that can seem simple at first. But once the initial excitement of beginning a relationship with Jesus wears off, you're confronted with actually changing your life to follow Him.
Those changes may be so radical that you can become overwhelmed and decide to go your own way instead of following where Jesus wants to lead you. But if you decide that you want what Jesus offers more than what you must leave behind to get it, you'll be able to follow Him to the best life you can live.
Here's how you can follow Jesus wherever He leads you:
Keep leaping. You can build up more trust in Jesus' ability to lead you by taking leaps of faith whenever He calls you to and seeing how He changes your life for the better along the way. Choosing to obey Jesus when doing so is hard can turn your bondage to sin into freedom and your doubt into certainty. When you choose to live within the confines of Jesus' commands, you can enjoy life as God designed it to be lived.
Don't stop at faith alone. While it's faith in Jesus that saves you, Jesus wants you to have more than just faith. He intends for you to grow beyond simply believing in Him to putting your beliefs into practice by obeying Him. Obedience to Jesus shows that you really do have faith in Jesus. While you can't be perfect, you should try to obey Jesus whenever you can.
Devote yourself to Jesus before all others. Jesus must be your first love and your top priority in life for you to become the person God wants you to become. Whenever the people you love – like your family and friends – object to something that Jesus is calling you to do, you need to follow Jesus anyway. Do you love Jesus enough to choose to follow Him even when someone you love doesn't support you? Does your love for Jesus surpass your love for everyone else? If not, reform your daily habits so that you're truly making Jesus your top priority and fueling your love for Him each day, such as by spending lots of time with Him in prayer.
Carry a cross while you walk with Jesus. Just as Jesus made the ultimate sacrifice by dying on the cross to save you, following Him sometimes requires you to follow His example of making sacrifices. You need to carry your own cross by denying yourself comfort and even safety when necessary to follow where Jesus leads. Staying loyal to Jesus may cost your reputation, a relationship with someone you love, your job, or even your life – but no matter what the cost, it's worth it, because Jesus paid it all to make eternal life possible for you.
Realize that playing it safe is actually dangerous. Ask God to help you overcome the temptation to play it safe when the cost of your allegiance to Jesus is high by retreating from Him, because the cost of abandoning Jesus is much higher. If you walk away from Jesus when you encounter opposition to your faith, you can't become the person you were created to become.
Serve Jesus well by faithfully using the money that He has entrusted to you. Use your financial resources to support Jesus' messengers (such as missionaries), help meet poor people's needs, and create spiritual receptivity by generously caring for non-Christians in crisis and letting them experience Jesus' love flowing through you into their lives.
Recently on Spiritual Life
Have something to say about this article? Leave your comment via Facebook below!
advertise with us
Example: "Gen 1:1" "John 3" "Moses" "trust"
Advanced Search
Listen to Your Favorite Pastors