How to Get Everything You Need from the Gospel
Whitney Hopler, Crosswalk.com Contributing Writer
Monday, May 14, 2012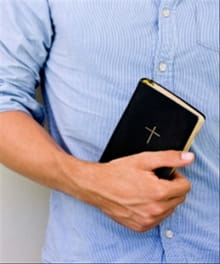 Editor's note: The following is a report on the practical applications of Tullian Tchividjian's new book, Jesus + Nothing = Everything (Crossway Books, 2012).
Jesus intends the Gospel message to do much more than just ignite your faith. The Gospel contains the power to meet all your needs every day if you rely on it regularly instead of trying to live the Christian life through your own efforts.
When you draw your strength from the Gospel, you can have everything that really matters – even if you have nothing that the world offers. Here's how you can get everything you need from the Gospel:
Pay attention to your restless feelings. Notice the different ways you feel restless. What changes do you want to make in your life? What are you hungering for that you don't have? What are you pursuing that isn't satisfying you? Every time you identify the source of a restless feeling in your life, keep in mind that it's a signal meant to direct you to your ultimate need: a relationship with God.
Identify where you're really placing your trust. Reflect on the daily decisions you make in various situations to figure out whether you're placing your trust in Jesus or in lesser things like your work, your money, your health, your reputation, your goals, your achievements, your hobby, a relationship with a person you love, etc. Realize that anything that your heart is drawn to more than Jesus Himself is an idol in your life that is dangerous to you spiritually. Remind yourself of the truth that only Jesus can ultimately fulfill you. Idols tempt you by seeming to offer what you want and need, but in reality, they don't have the power to provide it. Ask God to help you determine what source you're truly turning to for needs such as acceptance, approval, security, significance, meaning, purpose, identity, and direction. Whenever you discover that you're really trusting in someone or something other than Jesus to meet your deepest needs, pray for the Holy Spirit to renew your mind so you can focus on Jesus alone to meet those needs.
Break free of the enslaving pressure of do-it-yourself morality. Stop wasting time and effort trying to follow religious rules in your own strength and face the fact that, no matter how hard you work at changing your external behavior, you're powerless to achieve any real and lasting change in your soul on your own. Focusing on your own spiritual performance will only make you self-absorbed, which will ironically draw you farther away from God – the opposite of your goal to get closer to God. But if you decide instead to place your trust entirely in the Gospel message (that Jesus' sacrificial death on the cross for you is what makes you righteous before God), then Jesus' power will be at work in your soul, drawing you closer to God every day.
Realize why a relationship with Jesus is everything you'll ever need. Devote some time to thinking about how Jesus is sovereign and supreme over all of creation and let those thoughts nurture a sense of awestruck wonder within your soul. Remind yourself of the Bible's promises that all the fullness of God is within Jesus. Stop robbing yourself of the freedom Jesus secured for you by seeking what you need and from lesser things instead of Jesus Himself. Decide to place your trust in Jesus to be all things to you (such as your justification, freedom, grace, peace, hope, joy, and love). Realize that, through your relationship with Jesus, you already possess everything you'll ever need – you simply need to receive the treasures that Jesus is offering you every day as you walk with Him through life.
Trust in daily grace to deal with your daily sin. When you're confronted by the sin in your life each day, you don't have to despair because you're failing to measure up to perfection. Remember that you don't have to be good for God to love you; God loves you unconditionally and He will make you good because He loves you. So whenever you become aware of sin in your life, confess it to God, repent, and rely on the grace that He will give you to grow beyond it. Transfer your trust from your own efforts to be successful to Jesus' success for you – His sacrifice for your sins, which is already finished. When you stop dwelling on your own efforts to be holy and start focusing on how beautiful Jesus' holiness is, you'll start to become holier in the process because Jesus' power will be at work in your mind.
Recently on Spiritual Life
Have something to say about this article? Leave your comment via Facebook below!
advertise with us
Example: "Gen 1:1" "John 3" "Moses" "trust"
Advanced Search
Listen to Your Favorite Pastors