How to Jump-start the Best Version of Your Life
Whitney Hopler, Crosswalk.com Contributing Writer
Tuesday, October 22, 2013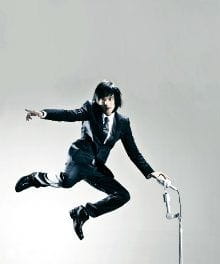 Editor's Note: The following is a report on the practical applications of Terry A. Smith's new book, Live 10: Jump-start the Best Version of Your Life (Thomas Nelson, 2013).
Jesus has declared that He wants everyone who follows Him to enjoy lives that are abundantly full of blessings despite the challenges of this fallen world – lives in which they can completely fulfill God's purposes for them and experience the best version of their lives as a result.
Is that the kind of life you're living now?
If not, don't worry. Every day is a fresh opportunity for you to start discovering and developing the life God intends for you to live. Here's how you can jump-start the best version of your life:
Refuse to settle for less than the best. Don't allow yourself to be content with a life of just getting by every day. Instead, give yourself permission to dream about living a great life – one in which you experience the thrill of making a significant impact on the world. Remember that your life is about much more than just you by yourself – it's about God working through you to accomplish what has eternal value. Choose to lose yourself in something bigger than yourself: God's great work in the world.
Ask God to wake you up and give you hope. Pray for God to give you a vision of your future from His perspective, and to give you the hope you need to pursue it. Remember that God has made you in His image, and He's calling you to reflect His love to others by doing the good work that He has prepared for you to do. Let those truths inspire the hope you need within your soul to pursue a better life.
Transcend the negative realities in your life with positive determination. Expect to encounter trouble in this fallen world (as Jesus warned that everyone would) but don't let that trouble limit your God-given potential. Regardless of your current circumstances, you can make appropriate choices that lead to a better future for you. In the midst of the negative realities you experience, ask some positive questions: "What can I do to be a positive influence on the world, and how and where can I do so?" Find a problem you'd like to help solve, draw a circle around it in your imagination, and tell yourself: "I can change that." Ask God to show you what specific ways He wants you to join Him in the work He's already doing in the world. Then draw circles in your mind around all of the areas of potential impact that God shows you, and focus on them on as you move forward.
Participate in God's continued creative activity in the world. Realize that God has made you a creative person and is constantly giving you opportunities to cooperate with Him to create something that will make the world a better place. What ideas for creative projects are inside you, shouting for you to work with God to make them realities? How has God inspired you to use your creativity – perhaps by starting a business or ministry, writing a story or song, inventing a new product, or conceiving a child? Follow the possibilities that are stirring in your soul.
Look for opportunities where your God-given interests and talents meet. Consider what especially excites you and what you're uniquely good at doing. Reflect on those God-given interests and talents and ask God to give you the wisdom you need to figure out how they're pointing you toward the unique role He wants you to play in the world.
Ask God to show you what's possible for you. Don't arbitrarily limit yourself to only what you can imagine for your future, but also don't waste your time and energy trying to pursue what isn't part of God's plan for your life. Ask the Holy Spirit to enlighten you about which specific ways of serving are best to focus on. Use various spiritual disciplines to seek God's guidance, such as: listening to the Holy Spirit's voice through prayer and meditation, studying the Bible, and seeking advice from mature spiritual leaders. Whenever you sense that God is leading you to a particular way of serving, respond by saying "yes" to the opportunity and pursue it until it either comes to fruition or God inspires you to change direction.
Recently on Spiritual Life
Have something to say about this article? Leave your comment via Facebook below!
advertise with us
Example: "Gen 1:1" "John 3" "Moses" "trust"
Advanced Search
Listen to Your Favorite Pastors