How to Say "Yes" to the Adventures God Has Planned for You
Whitney Hopler, Crosswalk.com Contributing Writer
Wednesday, June 04, 2014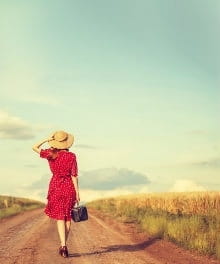 Editor's Note: The following is a report on the practical applications of Shelene Bryan's new book Love, Skip, Jump: Start Living the Adventure of Yes (Thomas Nelson Publishers, 2014).
Is your life full of adventures that are drawing you closer to God? If not, that doesn't mean that God hasn't planned some incredible adventures for you; it simply means that you've been missing out on them so far. The way to start experiencing the exciting life God intends you to live is simply to say "yes" whenever you sense him leading you to put your faith into action.
Here's how you can start saying "yes" to the adventures God has planned for you:
Learn how to listen to God. Move closer to God so you can start hearing his voice. Eliminate whatever is distracting you from making your relationship with God your top priority. For example, cut down on the amount of television you watch so you can free up more time to read and study the Bible, seeking to get to know God better in the process. Seek to tune into the messages that God is broadcasting in your direction. Whenever you sense that a particular thought in your mind is from God, test it to make sure that it lines up with biblical truth, since God will never speak anything that's contrary to how he has already spoken through the Bible. Spend time regularly in solitude and silence so you can focus fully on listening for God's voice. Be still and reflect regularly on who God is, what he has done, and what he wants to do through you. The closer you get to God, the more you'll be able to discern his plans for your life – and the more you'll want to pursue them.
Let love motivate you to say "yes." Reflect on the profound reality that the Creator of the entire universe loves you passionately and unconditionally, and let the enormity of God's great love inspire you to thank him for loving you by saying "yes" whenever he asks you to say or do something. Keep in mind that true love always involves giving to others. God gave the ultimate gift of himself to save you. So choose to express love for God by giving (your time, energy, money, talent, etc.) generously as he leads you to do so. Keep in mind Jesus' assurance that whatever you do for someone in need because of your love for God, you're ultimately doing for Jesus himself. Reach out to whoever you sense God leading you to help – including people who can't do anything for you in return – trusting the God's love will flow through you in incredible ways as you do so.
Be willing to skip some personal indulgences so you can give more to God's kingdom. Consider all the ways you can free up time, money, and energy to invest in what has eternal value – helping people in need as God leads you – by simply skipping something you don't really need. For example, if you skip eating out at restaurants for a while and eat at home instead, you can donate the money you've saved to your church or a charity that helps feed hungry children. Ask the Holy Spirit to help you recognize the comforts that are constraining your desire to devote yourself fully to following God. Pray for the faith you need to be willing to forgo those comforts so you can take the risks God wants you to take to serve fully in his kingdom. Be willing to make whatever sacrifices God leads you to make in order to participate in the adventures he has planned for you. Place everything you have in your life at God's service. Don't let yourself be distracted by pursuits that don't really matter from an eternal perspective; instead, focus your attention every day on pursuing what has eternal value. Ask the Spirit to show you how God sees the people whose needs he wants you to help meet, and let that compassionate perspective motivate you to love them unconditionally, as God does. As you learn to skip the excesses of the culture around you, you'll discover that giving really is better than receiving.
Recently on Spiritual Life
Have something to say about this article? Leave your comment via Facebook below!
advertise with us
Example: "Gen 1:1" "John 3" "Moses" "trust"
Advanced Search
Listen to Your Favorite Pastors