How to Step Out in Faith to Help Change the World
Whitney Hopler, Crosswalk.com Contributing Writer
Thursday, September 26, 2013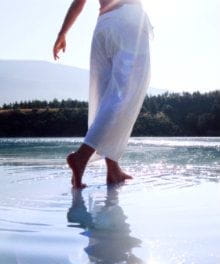 Editor's Note: The following is a report on the practical applications of Caroline Barnett's book, Willing to Walk on Water: Step Out in Faith and Let God Work Miracles Through Your Life (Tyndale House, 2013).
The pervasive problems of our broken world – from poverty to crime – can seem overwhelming. But God can and does use individual people to help solve the world's problems. You are part of the miracle that God is looking for to help change the world. If you make yourself available to God, He will work through your life in miraculous ways to bring healing and hope to people in need.
It all starts with taking the step of faith involved in saying "yes" when God calls you to follow Him. Stepping out to do what seems impossible can be scary – like trying to walk on water – but God will help you keep walking because everything is possible for Him.
Here's how you can step out in faith to help change the world:
Start by simply finding a need you can help meet close to home. Look around your local community and notice problems that especially bother you and motivate you to want to do something to help solve. Pray about those problems, asking God to direct you to the one He most wants you to deal with right now. Once you've identified a specific cause, plan a simple way to start working on it. Among the many possibilities: babysitting for a single mom in your neighborhood, mowing the lawn of a local elderly person, giving rides to the grocery store or medical appointments to someone you know who doesn't have a car, mentoring a student in need, volunteering at a local homeless shelter or hospital, or participating in a local food bank drive.
Look for needs you can help meet throughout the world. Look beyond your local community to the greater world and consider what needs God may be leading you to help meet there. Research an area of injustice that makes you particularly upset – from hunger to sex trafficking – and ask God to guide you to specific ways you can take action to help alleviate that injustice, such as by supporting charities that are working for that same cause or contacting legislators to work for law changes that relate to your cause.
Keep your motives in check. When you think you sense God leading you to serve in a specific way, check your motives by asking who it will help, who will receive glory, and why you believe you should do it. Then spend some time studying the Bible to see if your desires line up with what God's Word says about God's love compelling you to serve others. Afterward, if you feel at peace, move forward boldly to use your influence and initiate positive change.
Trust God to give you whatever you need to do the work He calls you to do. God will provide what you need to accomplish whatever tasks He wants you to perform. Trust Him to do so one day at a time. Since God's provision comes after you start walking in faith, go ahead and keep taking steps of faith, expecting God to give you everything you need along the way.
Incorporate service into your life. Be assured that God won't call you to serve others at the expense of other areas of your life; He will help you develop a habit of serving others in ways that fit well into your other commitments (such as to your family and your job). Make your goal simply being faithful in your particular season of life, and ask God to show you what that looks like. Determine which activities are and aren't priorities for you. Then evaluate and eliminate the current activities that don't contribute to what matters most to you. Also be sure to make time regularly to unwind and recharge by doing activities you personally enjoy; that will help strengthen you so you can keep serving others well.
Recently on Spiritual Life
Have something to say about this article? Leave your comment via Facebook below!
advertise with us
Example: "Gen 1:1" "John 3" "Moses" "trust"
Advanced Search
Listen to Your Favorite Pastors