Is God Our Cheerleader, or Are We His?
Jay Sampson
Tuesday, August 23, 2011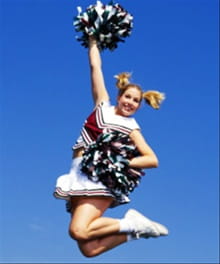 To be sure, God has poured out His love on His children. He has loved us with an unfathomable love. He has demonstrated His love towards us by sending Jesus as our righteousness and our salvation. But whenever God occupies a grandstand in our lives and not a throne, we err terribly. At times (especially when time grows short and we find ourselves behind) we like to talk about God as our biggest fan. He cheers us on as we walk through life, telling us that we can do it - but ultimately having little to do with the final outcome.
It feels good and right to be the center of the story and the focal point of everyone's attention. When we think of all that God has done in Christ for His children, it is easy to see how we can think that God is solely focused on doing all He can to cheer for us. The problem with that logic comes in what we have to do to God to fit him into a cheerleader uniform.

In a curiously antithetical article, John Piper states the counter-argument, what we'll call the "God-as-cheered" viewpoint, this way:
"God is the one Being in the entire universe for whom self-centeredness, or the pursuit of his own glory, is the ultimately loving act. For him, self-exaltation is the highest virtue. When he does all things 'for the praise of his glory,' he preserves for us and offers to us, the only thing in the entire world, which can satisfy our longings. God is for us, and therefore has been, is now and always will be, first, for himself. I urge you not to resent the centrality of God in his own affections, but to experience it as the fountain of your everlasting joy."
He WANTS us to choose him, to follow him, to know that we are special to him but that it is up to him to make things happen, to order our steps. The result of God-in-the-stands, however, has some serious personal and theological effects. It's tough to serve a cheerleader God. If he is in the stands and on the sidelines and at the finish line, then how am I gonna get there? If he carries me only when I am too tired, can I just admit right now that I'm tired? Out here running on my own, I keep going in circles. I have no idea where I'm headed. If he picks me up only when I'm too discouraged to fight, can I just admit right now that, if I'm fighting and he's cheering, I'm gonna get handled... and quickly.
I think maybe I'm tempted to put God in the stands when things aren't turning out quite how I'd hoped. If God is cheering but I am the one running, then I can always blame it on me when things go bad - thereby absolving God of any possible egg on His face and paying the price for my own failure. You see the problem there, no? Relegating God to a fail-safe and fall-back will always get you to the same place, failing and falling again and again until you see that it is God who wills and works, God who makes alive, God who remembers based on His own choice, not your ability to perform.
For His own name and glory - God has created, worked, efforted, miracled. Now, needing fans, he has taken, among others, a washed up, tired, slow white kid named Jay and put HIM in the bleachers while placing himself on the throne of the victor. The race is over. The battle is won. The champion is seated on a throne... always has been. And, look at that, he does have a tattoo - only it's on his thigh... and it isn't MY name... it's his - King of kings and Lord of lords (Revelation 19:16) - and all us tired cheerleaders in the bleachers are going WILD.
In the final analysis it's fair to say that there is something of a "both/and" thing going on here, similar to the quote from that sage Forrest Gump when he said, "Maybe both is happening at the same time." There is a time to know that God is your biggest fan, that he has all your successes and hopes in mind, that he doesn't want you to lick the trash can. Our name is written on his hand, and his greatness is written on his robe and thigh. But it truly seems from both general and special revelation that God has no bigger cheerleader than himself - and he has invited you and I to have a seat in the bleachers and join in the celebration.
Or, as a popular website reminds us these days, God is First. I am Second.
Jay Sampson is the Teaching Elder at Heritage Church in Shawnee, Oklahoma where he pastors literally tens of people every week. A father of three and aspiring fantasy baseball champion, Jay has been teaching at Heritage since 2007. Weekly podcasts can be found at www.heritageshawnee.org.
Original publication date: June 25, 2009
Recently on Spiritual Life
Have something to say about this article? Leave your comment via Facebook below!
advertise with us
Example: "Gen 1:1" "John 3" "Moses" "trust"
Advanced Search
Listen to Your Favorite Pastors