Jaded: Homeward Bound
A. J. Kiesling, Author
Tuesday, August 24, 2004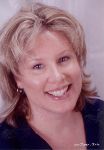 Editor's Note: We are excited to welcome author A.J. Kiesling to the Crosswalk.com family. Before kicking off her monthly column this September, we wanted to run the following excerpt from "Jaded"  ... to give you a taste for the book, and set the tone for the discussion to come.

It's been said you have to leave home to find it. Over the past several years I've wondered: Does the same hold true for God? Like so many others who cut their baby teeth on Christianity, for me the path to "finding God" was signposted like a suburban freeway. Go to church, memorize Bible verses, pray and confess my sins daily, and respond to at least one altar call. I thought if I did all those things, my reward here on earth would be the joy that comes from living what Jesus called the "abundant life."
The only problem with this formula for abundant living is that it doesn't work. Sooner or later you may find that out. Sometimes it's the church-mill that wears you down. Or perhaps a personal crisis leads to spiritual lethargy. You still believe in God; you go through all the right motions; you might even look convincing. But all the while you're dying a slow death on the inside, shouting a wordless cry to God: "Why isn't this Christianity thing working?"
Believers who are tired of "12 steps to spiritual growth" are faced with a puzzling question. They believe the words of Jesus and know they hold life-changing power. But how do those words "work" after the wear and tear of everydayness has dulled the glow of belief, after "churchianity" has replaced true Christianity, after spiritual idealism has turned into been-there cynicism?
In his book Your God Is Too Safe (Multnomah, 2001), author Mark Buchanan uses the phrase "chronic spiritual fatigue" to describe this malaise. When I first read his words, I thought, He's talking about me. I find I'm not alone. Everywhere I turn I run into fellow believers so jaded on institutional church life they rarely bother to darken the doors of those hallowed spaces anymore. Or they begin a search for a place that fits—a place that offers more than just programs. A place that encourages those deep, sometimes dark, questions that accompany any meaningful spiritual quest. For some, that place may be a house church, a Bible study, a coffeehouse meeting, or something as simple as breakfast with another believer once a week.
At the same time, I've discovered something wonderful. Once God marks you as His own, He doesn't let go lightly. You can walk away from church, but you can't walk away from Him so easily. Just when we think He'll finally leave us alone, He shakes things up again. Or frustrates our carefully wrought plans. Or speaks to us through the most unlikely characters.
That's what happened to me. In the midst of my own wilderness experience, God spoke to me through a paper sheep.
One afternoon at work, in the midst of a grueling deadline, something stopped me in my tracks: a white sticky note shaped like a sheep, stuck to a stack of folders. The production manager happened to have a packet of sticky notes shaped like sheep and had jotted my name on one to indicate which stack belonged to me. But in doing so she became the unwitting messenger of a mini-miracle.
God has been called the Hound of Heaven because of His endless, loving pursuit of us. Now that Hound was jerking my chain—gently. A bit of Scripture memorized in childhood Sunday school seeped into my tired brain: "I am the good shepherd; I know my sheep and my sheep know me" (John 10:14 niv).
Recently on Spiritual Life
Have something to say about this article? Leave your comment via Facebook below!
advertise with us
Example: "Gen 1:1" "John 3" "Moses" "trust"
Advanced Search
Listen to Your Favorite Pastors