Leap into God's Arms
Whitney Hopler, Live It Editor
Tuesday, March 01, 2005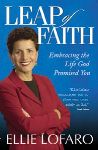 Do you sometimes long for a stronger faith - one that would help you live a more adventurous, fulfilling life?  Do you sense that God wants more for you, but don't feel up to embracing it? 

Just as your body becomes stronger through physical exercise, your soul becomes stronger when you exercise your faith. It can be scary to take leaps of faith as you face an unknown future. But there's really no safer place to jump than into the arms of the God who loves you. Here's how you can learn to take leaps of faith:

Don't settle for a marginal existence.  Decide that you want what God wants for you - a radical life that transforms you and significantly impacts God's kingdom.

Believe God's promises.  Read the Bible to discover all that you are entitled to as a member of God's family, through a saving relationship with Jesus Christ. Then claim your promised inheritance by believing God will do all He says He will, and living accordingly. Survey the circumstances of your life and open your eyes to the potential for God's work there if you faithfully follow where He leads you. Know that, if God has placed dreams in your heart, He will make them come true. Put your God-given talents to use and do the best work you possibly can in whatever you do. Take time on a regular basis to thank God for all He has done - and will do - for you. Ask Him to develop contentment and peace in you.

Trade the "good life" for real life.  Don't strive merely for our world's version of the "good life" - acquiring all the things and relationships you think you need to be happy. Realize that the best the world has to offer can only bring you temporary satisfaction. Instead, live for Jesus, passionately pursuing His purposes above all else. When you do this, you'll experience real fulfillment that will continue into eternity. Ask God to reveal the ultimate mission He wants you to accomplish during your time on Earth. Write your mission statement, and make decisions about how to spend your time, energy, and money according to it. Don't pin your ultimate hopes on any people, things, or circumstances.  Realize that God is the only One you can count on - and the only One you really need. Don't be so caught up in the gifts that you miss the Gift-giver.

Look toward your eternal home.  Understand that Earth is not your ultimate home; heaven is. Decide to spend your time on Earth growing in all the ways God wants you to prepare for eternity with Him. Be willing to leave things, places, and even people behind so you can follow wherever God leads you.  Pursue joy instead of happiness. Happiness is based on your current circumstances, so it comes and goes. But the joy that comes from God is possible to have in the midst of any type of circumstances. Ask the Holy Spirit to help you experience this joy, that's more powerful than transitory happiness.

Go public with your faith.  If Jesus has saved you, pass the lifeline along to others by sharing the Gospel message with them. Be alert to opportunities God gives you to do so. Ask the Holy Spirit to cause things that touch God's heart to touch your heart as well so you'll be motivated to reach out to others who need Him. Don't spend all your time with like-minded people. Develop meaningful friendships with non-Christians and model a life of holiness and love for them. Once you get to know them well, share the Gospel with them in natural ways. 

Recently on Spiritual Life
Have something to say about this article? Leave your comment via Facebook below!
advertise with us
Example: "Gen 1:1" "John 3" "Moses" "trust"
Advanced Search
Listen to Your Favorite Pastors