Learn from the "Nobodies"
Whitney Hopler, Live It Editor
Sunday, November 19, 2006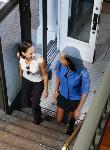 The following is a report on the practical applications of Jim Palmer's new book, Divine Nobodies: Shedding Religion to Find God (and the Unlikely People Who Help You), (W Publishing Group, 2006).
You might expect to learn spiritual wisdom from a pastor, a speaker, an author, or a ministry leader – all "somebodies" in the church. But did you know that you're just as likely to discover profound truths about God from "nobodies" like a disabled girl, a tire salesman, a waitress, and a hip-hop musician?
Here's how you can look beyond organized religion to let spiritual nobodies teach you more about God:
* Recognize that God works in extraordinary ways through ordinary people. Know that God doesn't need a person to be brilliant, famous, wealthy, or beautiful to use that person in significant ways. Realize that it's not necessary to accomplish something spectacular to make a powerful impact for the better. Understand that some of your greatest epiphanies may happen when encountering ordinary people in ordinary places, like a park or grocery store. Be aware that God reveals some of His deepest mysteries off the beaten path of organized religion. Ask God to help you notice Him at work all around you.
* Learn from a jazz drummer: Don't be afraid of moving beyond the predictable. Know that you can't control God, predict Him, or reduce Him to Someone who simply makes you feel comfortable. Let go of your planned agendas and make time to listen for God to speak to you however He chooses. Understand that getting to know God is more of an art than a science. Give up the idea of using a formula to approach God. Instead, simply spend time with Him and seek to grow from your encounters. Embrace mysteries and expect surprises. Trust God enough to allow your spiritual journey to go wherever He leads you, even if you don't know where it is until you get there.
* Learn from a hip-hop artist. Be honest about your thoughts and feelings when you're struggling. Realize that God knows them anyway and wants you to express them rather than hiding behind a façade of perpetual happiness, as too many church people do. Don't settle for shallow or simplistic conversations or pursuits. Don't rush to judge and condemn people. Instead, be willing to accept and try to understand people as they are, even when they're angry, hurting, and broken. Know that Jesus loves people just as they are, and as one of His representatives on Earth, He wants you to do the same. Realize that you can't truly get to know people simply by their appearance; make time to build genuine friendships with them. Listen as people pour out their desperation, remembering that doing so is an important part of honestly seeking God and the hope He offers. Don't be afraid of people who speak their mind, cast off rules, confront hypocrisy, upset the status quo, and don't care what other people think of them. Understand that God may actually be using them to get your attention and motivate you to think about something important. Remember that your own sins aren't any worse than someone whose sins are more obvious. For example, pride is just as bad as cursing. Know that people in rebellion are passionate, and that God can transform that passion into something good by directing it the right way. Stop caring about your image or reputation and feel free to be yourself, knowing that God can handle any messiness in your life and use it to accomplish good purposes.
Recently on Spiritual Life
Have something to say about this article? Leave your comment via Facebook below!
advertise with us
Example: "Gen 1:1" "John 3" "Moses" "trust"
Advanced Search
Listen to Your Favorite Pastors