Learn How and When to Trust in a World of Betrayal
Whitney Hopler, Live It Editor
Wednesday, March 09, 2005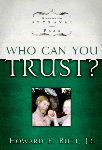 Avoid foolishness.  Use the common sense that God gave you when deciding whether or not to trust in any given situation.  Don't put God to the test by deliberately doing something dangerous and expecting Him to perform a miracle to rescue you.  Beware of shortcuts, like following a get-rich-quick scheme instead of working hard for an honest paycheck.  Don't rush into decisions; be patient enough to give yourself time to fully analyze them first.  Take all the time you need to thoroughly think and pray about decisions, unless a true emergency calls for you to make them quickly.

Put down your shield.  Realize that it's useless for you to try to protect yourself from getting hurt.  Understand that only God can truly protect you from anything.  Don't lose out on rewarding experiences that He wants you to have.  Decide to take the risks He calls you take so you can live an abundant life.  Remember that your Heavenly Father wants only the best for you.

Turn your worries into prayers.  Every time you find yourself feeling anxious about something, say a prayer about it.  God will answer your prayers and build your trust as you build a habit of turning to Him more often.  Never minimize what God can do in and through you.  Know that He is always at work, even if you can't see what He's doing behind the scenes.

Saturate yourself in the Bible.  Read and meditate on God's Word often so that it shapes your everyday understanding and responses.  You'll find your wisdom for knowing when to trust and when to choose not to trust increase steadily.

Pursue a healthy vulnerability.  Be humble enough to be vulnerable with others, sharing your life with them in meaningful ways and building close, lasting relationships.  Drop your pretensions and show people who you really are.  Remember that God loves you deeply just as you are and wants you to reach out to other people without undue fear.  Know that God can use people you trust to help you grow.  But if you refuse to open up to others, you hinder God's work in your life.

Concentrate on God's promises more than on your frustrations.  Know that the more you think positively, the more positive change you invite into your life.  Understand that what seems hopeless to you can never be hopeless to God because anything is possible with Him.

Listen to counsel from people you respect.  Seek advice from people who have earned your trust already.

Listen to your intuition.  Don't discount the inner nudges you sense when trying to figure out how to proceed.  Pray for God to confirm whether or not they're promptings from His Spirit to yours.

Make prayer a constant practice.  Make a habit of talking and listening to God throughout every day. After a while of practicing frequent prayer, it can become as natural as breathing. Expect your sense of hope to increase as you pray.

Live in the present.  Let go of the baggage you're carrying from the past. Don't worry about the future; God has it in His hands. Make the most of all you truly have right now - the present.

Adapted from Who Can You Trust?: Overcoming Betrayal and Fear by Howard E. Butt, copyright 2004 by Laity Renewal Foundation. Published by WaterBrook Press, a division of Random House, Inc., Colorado Springs, Co., www.waterbrookpress.com.

Howard E. Butt, Jr., is a businessman and an early modern pioneer on "faith in the workplace." He is president of the H.E. Butt Foundation, the Laity Lodge Foundation, and the Laity Renewal Foundation. His radio spots, "The High Calling of Our Daily Work," are heard throughout the United States. His previous books include, The Velvet Covered Brick, Renewing America's Soul, and At the Edge of Hope.  He and his wife, Barbara Dan, live in San Antonio, Texas.

Recently on Spiritual Life
Have something to say about this article? Leave your comment via Facebook below!
advertise with us
Example: "Gen 1:1" "John 3" "Moses" "trust"
Advanced Search