Luis Palau's China Visit Finds Change, Hope, Opportunity
David L. Jones
Monday, April 19, 2004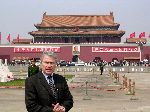 Chang's Love for Christ
Michael Chang spoke at 30 different events promoting his love of tennis, China, and Jesus Christ. At age 17 Chang became the youngest male player to ever win a major tennis title when in 1989 he won the French Open. Chang is one of Asia's most beloved athletes.  He is enormously popular in China for being one of the first international celebrities of Chinese descent.  Chang's father is from Guangzhou and his mother from Taiwan. The 32 year-old teamed up with Palau at a number of events and churches. In addition, Chang spoke at high schools, public meetings, universities, the Chinese Tennis Association, Sports Institute of China, and Chinese Tennis Academy.
Chang also put on several tennis clinics for players and coaches. Chang said he was looking for ways to further develop tennis in China.  The retired champion said, "In other sports like badminton and table tennis, China has some of the best players in the world, so there's no reason why China cannot have champions in tennis."
At each speaking engagement Chang not only promoted tennis, but also his love for Jesus Christ, which he said was the foundation for his life. Chang and Palau were both pleased at how freely they were permitted to share their love for Jesus.
"I've visited China a number of times, but this trip just blew me away," said Chang.  "There's such a hunger to hear a message of hope, and we found an encouraging openness that let us all share our testimonies and the Good News of Jesus Christ. I've come away inspired by the heart and warmth of the Chinese people, and excited about what God has for us next."
Helping Orphans
Steven Curtis Chapman and Geoff Moore used the trip to raise money inside China to help orphaned children.  Both artists, in event after event, affectionately and at times tearfully told of their love for the Chinese and how God is "a Father to the fatherless".  Chapman's message in each meeting was that in the same way adopting a child gives that child hope, we can be adopted by God and given hope through faith in Jesus Christ.  In one of the tour's more unusual events, the two award-winning artists gave a free concert to a standing-room-only packed crowd at the Beijing Hard Rock Café.  Between songs during the 90-minute concert, the two singers shared family stories, their love for China, and their love for Jesus.
Chapman said, "Heaven has truly come down in China. Doors opened for us everywhere, and the doors that God opens no man can shut.  The friendships we've built with our work with orphanages have blossomed. That we could share our music at the Beijing Institute of Technology one day and the Hard Rock Café the next showed us that the power of God is at work in this country."
Fan Baojun, President of the China Charity Federation, expressed his gratitude to the Americans for their concern for the orphan children of China and the underprivileged.  At a fund-raising banquet the group helped elevate the charitable work of Care for the Children, The Philip Hayden Foundation, and the China Social Work Association.
Recently on Spiritual Life
Have something to say about this article? Leave your comment via Facebook below!
advertise with us
Example: "Gen 1:1" "John 3" "Moses" "trust"
Advanced Search
Listen to Your Favorite Pastors