Old Virtues Can Make Your Life New
Whitney Hopler, Live It Editor
Monday, December 25, 2006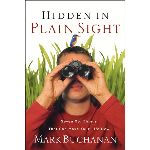 Editor's Note: The following is a report on the practical applications of Mark Buchanan's new book, Hidden in Plain Sight: Seven Old Things that Can Make Your Life New, (W Publishing Group, 2006).
What's holding you back in life? If it seems like you're stuck nursing past wounds or trying to overcome persistent bad habits, there's hope. As a Christian, you actually already have everything you need to make real progress – old virtues that can make your life new if you embrace them in a fresh way.
Here's how you can experience a renewed life by embracing old virtues:
* Grow in faith. Ask God to give you more faith so you can more deeply notice and appreciate what He's doing in your life now and trust Him to continue to accomplish good purposes through your life. Recognize that attempting to be virtuous apart from God is futile, since no one can be truly good without God. Realize that you don't need more skill, more cunning, or more resources to make progress in life – you just need more faith. Understand that, if you rely on the Holy Spirit's power, He will magnify even your smallest efforts into more than you can ask or imagine. Pray for God to give you a vision of the future He has in mind for you. Decide to trust Him to lead you toward that future. Embrace the gift of faith and treasure it, realizing that it is the foundation for all other virtues. Understand that faith is the seed that enables all other virtues to grow and bear fruit. Spend time in the company of other people who value their faith, and let them inspire you. Know that what matters most are things unseen (the greater spiritual world beyond the material world we can see right now). Remember that God exists, and everything else that exists depends on Him. Be assured that God rewards those who earnestly seek Him, and decide to pursue God (which will bring you eternal benefits) rather than worldly things that won't last. Develop an intimate relationship with Jesus through spiritual disciplines like prayer and reading and meditating on the Bible. Ask the Holy Spirit to fill you, empower you, and guide you. Pay attention to the Spirit's nudges and act on your faith. Serve God out of joy instead of guilt or fear. Anchor all your other virtues to your faith so you won't be swept away from what matters most.
* Pursue goodness. Realize that you can't do good without being good. So set out to be good by getting to know the One who is good – Jesus. Rather than focusing on being a better philanthropist, activist, or therapist, focus on becoming a better worshipper. Know that if you learn to love God, you can then love other people. Pay attention the Holy Spirit's prompting and act on it. Follow the examples of role models who exhibit true goodness at work in their lives. Learn from them.
Recently on Spiritual Life
Have something to say about this article? Leave your comment via Facebook below!
advertise with us
Example: "Gen 1:1" "John 3" "Moses" "trust"
Advanced Search
Listen to Your Favorite Pastors