Open the Gift of Freedom
Whitney Hopler, Live It Editor
Wednesday, November 10, 2004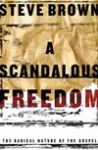 It cost God dearly to set His people free. But too many still live in self-imposed bondage, preferring the security of manmade regulations to the adventure of freedom. Trusting in the freedom God offers you and other people can be scary, but the alternative is even scarier - a life without joy.


Remember: Through Christ's work on the cross, God has already set you free.  Here's how you can open the gift of freedom God has given you:


Realize that there's more to faith than religion.  Understand that the Christian life isn't just about obeying rules, doing religious things, or being nice.  Know that it's meant to be a passionate adventure.


Embrace God's unconditional love.  Remember that absolutely nothing can change how much God loves you and other people.  No matter what mistakes you (or others) make, He will still love you (and them) more deeply than you ever could imagine.  He is your Father, and you are His child.


Trust in Christ's righteousness rather than your own.  Acknowledge that no imperfect human being in our fallen world could ever be righteous enough on his or her own to please a perfect God.  But remember that, because Christ died on the cross for your sins, His perfect righteousness covers you when you trust Him with your life (on earth, and for eternity).  Don't try to prove yourself to God through rules, regulations, and good works.  Instead, realize that God looks at you through the blood of His Son - the only thing powerful enough to wash away your sins.  If you're a Christian, God has turned His wrath away from you and transferred all Christ's goodness to your spiritual account.


Don't point fingers at others.  Understand that, no matter how much someone else may upset you, only God can truly judge that person.  Don't waste your time or energy judging other people.  Pray for them instead.


Get a clear picture of God.  Strive to understand what God is truly like so you can live accordingly.  Relax; He's not an ogre who wants to strike you down whenever you do something bad.  Although He is a righteous judge, He also understands human weakness and sin.  He is a God of love and mercy who will deal with you kindly and gently and give you the grace you need to grow.  Study the life of Christ - God incarnate - to better understand what God is like.


Trade perfection for forgiveness.  Realize that there is a better way to become holy than just trying harder.  Instead of obsessing about how you can live a good life, devote your efforts to loving Jesus as much as you can.  Know that no human can be perfect, and that trying to do so will only rob you of your freedom.  Understand that the key to holiness is deepening your relationship with God.  The more you spend time with God, the more His loving Spirit will transform you so you can grow to be more holy.


Trade legalism for joy.  Remember that religion's sole purpose isn't to make people good.  Know that simply being a moralist will cause you to miss the core of the Gospel message - that Christ has set you free.  Don't define yourself in terms of how good or bad you are.  Instead, define yourself by your relationship to Christ.  Celebrate what He has done for you!


Recently on Spiritual Life
Have something to say about this article? Leave your comment via Facebook below!
advertise with us
Example: "Gen 1:1" "John 3" "Moses" "trust"
Advanced Search
Listen to Your Favorite Pastors