Peace Deal in Sudan Presents Opportunity for Christians
Janet Chismar, Senior Editor, News & Culture
Friday, October 10, 2003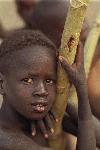 A security deal signed in late September by Sudanese Vice-President Ali Osman Taha and John Garang, leader of the rebel group SPLA (Sudan People's Liberation Army), is a significant step toward peace in Sudan and has important implications for the relief community and concerned Christians.
According to Tom Vraalsen, the U.N. special envoy for humanitarian needs in Sudan, "I left (the meetings) more confident than ever that there will be a peace agreement in Sudan." Vraalen, who met with officials on both sides, said during a press conference, that he was optimistic the bloodshed would finally end. 
More than two million people have died in the Sudanese conflict, mainly through war-induced famine and disease. Fighting first erupted in 1983 when Southern rebels took up arms against the predominantly Arab and Muslim northern government in a bid to obtain greater autonomy for the largely animist and Christian south.
The peace deal comes at a critical time for many Sudanese who are suffering from hunger and health issues caused by a combination of war and natural disasters. An end to the conflict means a need for help for the millions of displaced people and refugees returning home. According to World Relief president, Clive Calver, aid should be used toward implementing programs that help prevent future crises.
Calver recently met with Sudanese churches to discuss how to better mobilize them in light of this latest security deal, and to assess how preventative development programs implemented by World Relief have, and can, make an impact on Sudan's humanitarian crises.
During an interview just after his return, Calver told Crosswalk.com that the people of Sudan feel "a glorious sense of relief that in six weeks' time, there may be peace." He describes the mood of the people: "You're standing in the middle of the village complex and a bomber flies overhead. You're surrounded by all these foxholes and bunkers, but nobody's diving in. Everyone's looking up at the sky and thinking, 'We're not going to be bombed.' It was wonderful."
Does Calver think this peace agreement will work? "I think this is the best opportunity there has been. I think the north has begun to realize that a fundamentalist Islamic government is not going to either wage a successful genocide against the south, nor is it going to gain a position where it can re-exert its will. It's got to face the fact that the animist Christian population of the south is determined that it's now going to have its moment of freedom."
According to Calver, some people are fighting for liberty and some are fighting for religious freedom - most people are fighting for both. "Some 20 years have given adequate testimony to the fact that they are not going to give up."
The Sudanese Church
Before describing the work that World Relief is doing with local churches, Calver offers a bit of clarification - the word "church" brings to mind a western model. "Southern Sudan has no gas or no electricity. It has only 10 miles of paved roads. It has no airports. It doesn't have any guaranteed fresh water supply. It has no currency - instead it deals in chickens and cows. When you talk about churches doing things, you are talking about churches that don't have pastors and that may not even have Bibles."
Recently on Spiritual Life
Have something to say about this article? Leave your comment via Facebook below!
advertise with us
Example: "Gen 1:1" "John 3" "Moses" "trust"
Advanced Search
Listen to Your Favorite Pastors