Safe in the Arms of God: What Happens to Babies Who Die?
Janet Chismar, Senior Editor, News & Culture
Wednesday, January 21, 2004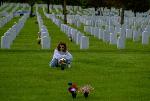 Parents who have lost a child often are haunted with disturbing questions. Why my child? Where is my baby now? Will I ever see my child again? And it's perfectly normal. "The death of a child is the most devastating experience a parent can ever face," explains pastor and author John MacArthur.
In his book, Safe in the Arms of God, MacArthur tackles the question of infant death (in the womb or following birth) with compassion and honesty. No death occurs apart from the purposes of God, MacArthur assures readers, just as no life occurs apart from the purposes of God.
"This book is a great tool at those times when emotions run high and losses are felt deeply," MacArthur told Crosswalk.com in a recent interview. "When you are struggling with the feelings, when you come to grips with things in a more stark way, you need the anchor that comes from the absolute truth of the word of God."
Those who are grieving deserve an answer rooted in the truth of Scripture, MacArthur notes. The parents need them, other family members need them, friends need them, and pastors and counselors need them.
Where Are They Now?
"Is my baby in heaven?" It is natural for grieving parents to ask this question. They are not alone in wondering. Many people wrestle with what happens to children in third world nations – those who may die of starvation without ever knowing God. Or, what happens to aborted babies? And where do the innocent babies of Hindus and Muslims go?
The Bible teaches that all children who die are in the special care of God, MacArthur explains. "I think one of the really great passages along those lines is in Mark 10, where Jesus said, 'Permit the little children to come to me and forbid them not, for such is the Kingdom of God.' That, as well as in the Old Testament, where God talks about the babies who were offered to pagan gods – they were burned in the fire as human sacrifices – He called them 'the innocents.' If God says that little one is innocent, even though it's a child of a pagan, offered in a pagan sacrifice – you are not talking about a baptized baby; you're not talking about a baby who has parents in the covenant; you're not even talking about a Jewish baby – you're talking about a gentile pagan child and it is determined by God to be an innocent."
MacArthur shares another illustration, that of King David in the Old Testament. When David and Bathsheba's infant son became ill, the Bible says David pleaded, fasted and mourned. But when the baby died, he washed himself and no longer mourned in any sense. Then he said, "I shall go to him, but he cannot return to me."
According to MacArthur, "David was comforted in thinking of that reunion, but the opposite was true with Absalom. When his adult son Absalom died, he wept and wept, and mourned and mourned, and could not be comforted, because he knew he would never see that child again. The difference there is pretty significant.
Recently on Spiritual Life
Have something to say about this article? Leave your comment via Facebook below!
advertise with us
Example: "Gen 1:1" "John 3" "Moses" "trust"
Advanced Search
Listen to Your Favorite Pastors