See Jesus through the Eyes of Those Who Were with Him
Whitney Hopler, Live It Editor
Tuesday, October 10, 2006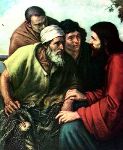 The following is a report on the practical applications of Richard Exley's new book, Encounters with Christ: Experience the Miracles and Transforming Power of an Unexpected Savior, (White Stone Books, 2006).
Although you can't travel back in time to see Jesus face to face, you can discover more about Him through the eyes of those who did see Him in person all those years ago. Your faith will come alive as you study the lives of some people who encountered Jesus in person.
Here are some lessons you can learn from them:
* The Daughter of Jairus (Luke 8:40-55): Be willing to take whatever risks are necessary to approach Jesus when you need healing. Don't be shy about asking Him for help. Humble yourself and don't worry about other people's ridicule. Cast all your anxiety on Jesus, because He cares for you, and trust Him to reach out to you when you need His touch.
* A Desperate Woman (Mark 5:25-34): Rest assured that, no matter how desperate your circumstances are, you haven't been abandoned. Know that God still sees and cares about you. Ask Him to give you fresh hope. Remember His miracles. Get rid of hurt and bitterness in your heart so it doesn't block your intimacy with Jesus. Ask Him to help you forgive, and rely on His strength to do so. Then step out of your comfort zone and pursue healing. Put your past disappointments behind you and ask God to help you overcome your doubts.
* The Adulteress (John 8:2-11): Realize that, if God has forgiven you for your sins, you shouldn't condemn yourself. Understand that there is absolutely nothing you can do to make God love you any less; His mercies never end. Also understand that there is absolutely nothing you can do to make God love you any more; it's impossible to earn His love. Accept the fact that God already loves you deeply and completely, simply because that's the kind of God He is. Know that God loves you just the way you are – but He loves you too much to leave you that way, so He wants to forgive your sins and set you free to become all you were meant to become. Don't try to hide your sins or justify them. Instead, confess your sins openly and honestly, trusting that God will forgive and help you.
* The Sinner (Luke 7:36-50): Go ahead and express the full depth of your love for God. Show God how grateful you are for all He has done in your life. Worship with sincerity and enthusiasm. Celebrate the fact that, despite your sin, God's love will never let you go. Know that God's grace is greater than your sin, and, no matter how hopeless your current situation may seem, He is always able to restore you. Admit that you're powerless to save yourself, and call on Jesus to forgive your sins and heal your hurts. Leave your old life behind and walk confidently into the new one He offers you.
* The Paralytic (John 5:1-15): Never give up hope that God will intervene to help you at the right time, no matter how long you've suffered. Understand that no one is so lost that he or she can't be found, and that no one is beyond the reach of Jesus' compassion. If you don't have much faith, don't despair. Instead, ask God to give you more faith. Approach God with confidence – not based on your personal goodness or merit, but on God's character. Don't focus on yourself or your needs, but on His sufficiency. Remember that God is able to do much more in your life than you ask or imagine.
Recently on Spiritual Life
Have something to say about this article? Leave your comment via Facebook below!
advertise with us
Example: "Gen 1:1" "John 3" "Moses" "trust"
Advanced Search
Listen to Your Favorite Pastors