Seven Lessons from Summer Camp
Shawn McEvoy, Managing Editor, Crosswalk.com
Wednesday, June 01, 2011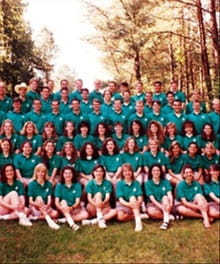 It's been twenty years since I last assumed the pseudonym of "Frostbite" for three months in the piney woods of East Texas. From 1991 through 1993, I summered at Pine Cove Ranch, a Christian camp for (at the time) 6th-through-12th graders near Tyler. Every week, a new batch of campers would arrive, and along with my colleagues Bushwacker, Backfire, Opee, Edelweiss, Fezzik and the rest, we'd herd them in for six days of water sports, horses, biking, Bible study, sermons, and silliness.
Twenty years, but the experiences of those three collegiate summers left me with a plethora of lessons that stand the test of time. Some of those lessons were, how shall I put it, more... socially educational? Nevertheless, I was able to distill the wealth of spiritually-beneficial wisdom into the following seven categories:
1. God doesn't call the qualified; He qualifies the called (2 Timothy 3:17).
This phrase was standard fare from the mouth of our camp director. The truth in the statement extends back to Moses, Abraham, Joseph, David… just about everyone used by God for big things who, on physical examination, didn't have the degrees, stature, or qualification for the jobs that needed to be done. You've never spoken in public, acted in a skit, or led a Bible study? You may be right where the Lord wants you, so get ready for Him to bestow His qualification upon you.
It also works in reverse – you think you're qualified for one thing, God has a different purpose. As a youth ministry major who loved water sports, I assumed surely His place for me was with the 12th-grade guys and the waterfront. So why was I assigned to 6th graders, tennis, and archery? Somebody messed up! Turns out it was me for getting insulted. I was in precisely the place where I could be of most use to the kingdom, and sixth graders were much better at buying into my off-the-wall behavior than the too-cool seniors.
Other counselor friends of mine came away remembering other mottos that continue to inform their lives. "Figgy" tells me that to this day she subscribes to the disciplinary treatise, "A river without boundaries is a swamp," which our camp director was fond of reminding us. I'd wager each counselor came away with their own set of (at least) seven lessons. But onward with mine...
2. If you want to learn something, teach it (Exodus 18:20).
Surely there had been another mistake. I'd never handled a gun of any kind in my life. Were they actually assigning me to teach skeet shooting to junior high boys? I hoped the camp had good insurance. Turns out they had good assurance – the blessed kind. They knew I'd already proven myself on the archery range, and I became an expert in shotgun safety and numerous other activities largely through the faith and trust placed in me. The Lord gives you what you need via your willing heart.
Incidentally, teaching what you don't know very well can potentially have great rewards: even before I'd ever executed my own successful roll in a kayak, when a camper I was assisting with the principles of the move popped back out of the water successfully, both of us beamed with bright confidence the rest of the day. Seeing how she managed it gave me the lesson I needed to accomplish the feat myself. (I need to remember this the next time I involve my son in a home fix-it project neither of us has tackled before...)
3. The kid with the toughest exterior on Sunday is the one who'll be hugging you the hardest come Saturday (Matthew 19:14; Romans 12:9-10).
Recently on Spiritual Life
Have something to say about this article? Leave your comment via Facebook below!
advertise with us
Example: "Gen 1:1" "John 3" "Moses" "trust"
Advanced Search
Listen to Your Favorite Pastors