Sleeping Together and Christ's Global Cause
Ray Pritchard, Keep Believing Ministries
Sunday, November 06, 2011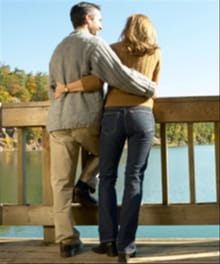 Symptoms vs. Root Issues
We need to distinguish between causes and symptoms. Sleeping together is a symptom. It's not the root issue. The deeper issue is committing yourself unreservedly to Christ's great global cause to bring Good News to everyone, everywhere. Last week one of the presidential candidates said that America's great failing is that we have lost the concept of giving ourselves to a cause greater than our own self-interest. He's right. And in the church somehow we have lost sight of the incredible adventure of serving Christ with nothing held back—to be so consumed in the Lord and his holy cause that lesser things fall away.
It comes down to this. Do I believe that the rules of life were made for my ultimate benefit? If so, then I'll find a way to live by those rules and wait until I get married to have to have sex. And no one—not the teenagers who fool around on a date nor the divorced guy and gal who feel very attracted to each other and enjoy "being intimate"—will successfully say no unless they have a higher reason to do so. My advice is, find that higher reason in Christ and his great global cause. Give yourself with unrestrained passion to helping others in Jesus' name.

I do not doubt that you and your lady friend truly love each other. If that is true, my counsel is, Don't wait!
Don't wait to serve the Lord.
Don't wait to give all that you have for a cause greater than yourself.
Don't wait to follow Christ wherever he leads.
When your heart is captured by a higher calling, you won't have to write and ask me, "Should we be sleeping together?" You just won't do it.
Nothing Better to Do
There is much more that could be said about setting proper boundaries, building hedges, finding accountability, and so on. I am putting all that aside to stress the central issue of your heart. I leave you with one final thought.
We sin because we don't have anything better to do.
Ponder that for a while. This applies not just to sexual sin but to gluttony, pride, sloth, envy, bitterness, and every other evil inclination. We sin because we are bored and can't think of anything better to do. As long as we are bored, we will justify anything we can think of simply to keep us occupied. Remember that David sinned with Bathsheba precisely because he had nothing better to do. He stayed home when it was the time of year when kings go out to war (2 Samuel 11:1). We focus on the adultery, but that was the result of his own boredom. He didn't have anything better to do that night, he took a walk, he saw Bathsheba, and the rest is history.
We sin because we don't have anything better to do.
Right now you don't have anything better to do so of course the two of you sleep together. But how can you do that when the world is dying, millions are suffering, and people everywhere need the Lord? Why do you lie in bed with your lady friend when the King has called for you?

Many years ago we used to sing the old campfire song, "I Have Decided to Follow Jesus." One verse in particular comes to mind:

The world behind me, the cross before me.
The world behind me, the cross before me.
The world behind me, the cross before me.
No turning back, no turning back.

If the cross is before you and the world behind you, there will be no turning back. When your heart is consumed with the pleasure of knowing Christ supremely, sleeping together won't seem so appealing. Until that happens, until the eyes of your heart are opened, nothing I say can make much difference.

I started off by saying that it doesn't matter. And I stand by that—in the sense that the world isn't waiting to find out whether or not you are sleeping with a woman before you are married. The world thinks you are—and doesn't worry about it. But on a deeper level, it matters greatly because what you do or don't do sets a course for your own life. We don't have two different standards—one for our teenagers and one for our divorced adults who fall in love with each other. It's one standard across the board. What you do impacts your walk with God, your relationship with each other, the standard you set for your own children, and your testimony to other believers who may struggle in this area. Finally, it matters to the world because the world is waiting and watching to see if what we believe makes any difference in the way we live. If we live like the world, how will the world ever see the true life-changing power of Jesus Christ?

I am not suggesting that you shouldn't date your lady friend or that you shouldn't someday get married. But for the moment, that is not the issue. The greater matter is the state of your own heart and your commitment to Christ's cause in the world. Ask God for a new vision, new eyes, a new heart and new desires. Ask the Lord to replace the boredom of your heart with an unquenchable passion for him.

I have actually quoted any Scripture verses because it's not about this verse or that verse. But if you want one, here it is. "Seek first his kingdom and his righteousness, and all these things will be given to you as well" (Matthew 6:33). I urge you to join the great band of Kingdom-seekers who for the sake of Christ have committed themselves to his global cause. Do that and in his time, everything else will be yours.

I have spoken to you as a friend to a friend. I hope these thoughts are helpful.

This article originally appeared on the Keep Believing Ministries website. Used with permission.
Dr. Ray Pritchard is the president of Keep Believing Ministries. He has ministered extensively overseas and is a frequent conference speaker and guest on Christian radio and television talk shows. He is the author of 27 books, including Credo, The Healing Power of Forgiveness, An Anchor for the Soul and Why Did This Happen to Me? Ray and Marlene, his wife of 31 years, have three sons - Josh, Mark and Nick. His hobbies include biking, surfing the Internet, and anything related to the Civil War. Click here to visit Ray's Crosswalk.com blog.
Original publication date: August 27, 2008
Recently on Spiritual Life
Have something to say about this article? Leave your comment via Facebook below!
advertise with us
Example: "Gen 1:1" "John 3" "Moses" "trust"
Advanced Search
Listen to Your Favorite Pastors