Step in the Footprints of Famous Disciples
Whitney Hopler, Live It Editor
Monday, December 27, 2004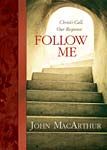 We live in a world where the amount of information available to us is unprecedented. Everywhere we turn, we hear voices calling us to follow them.  But there is only one voice truly worth following - the timeless voice of Jesus, God incarnate.

Throughout the ages, many people have sought to follow Jesus. Studying the lives of those in the Bible can help you step in their footprints on the road to following Him.

Here are some ways biblical disciples can help you learn how to follow Jesus:

Realize that anyone can be a disciple.  Understand that the people Jesus called to follow Him in the Bible were just the same as people today - ordinary, imperfect human beings.  Know that you don't have to possess any special talents in order to answer Jesus' call.

Be born again.  Acknowledge that you can't follow Jesus just as you are; you must be transformed by the power of a saving relationship with Him. Repent of your sins and believe in Jesus as your Lord and Savior so you can be born again. That's the only way you can approach God with acceptable worship and follow Jesus as a true disciple.

Know that God has a unique purpose for your life.  No matter what your stature is in the world, your life has a great, unique purpose from God's perspective.  He has created you and given you resources to use so you can reflect His glory in unique ways. Ask God to show you His purpose for your life.

Pray.  Make it a top priority to spend time with God on a regular basis.

Value curiosity and take initiative, like Peter.  Constantly seek to get to know God better. Be bold as you seek to move forward in your spiritual quest.  Learn from your mistakes and move into the future with confidence.

Value individual people, like Andrew.  Build one-on-one relationships with people to help them discover Jesus. Know that befriending people is often the most effective way to lead them to salvation.

Offer hospitality, like Lydia.  Be willing to open your home - and your heart - to people and share God's love with them. Help meet other people's needs whenever you can.

Worship well, like Mary.  Have the right attitude - a humble and thankful heart that wants to praise God. Have the right object of worship - the one true, living God, and nothing or no one else. Have the right reason for worship - to thank God for His redemptive work in the world.

Direct your passion wisely, like James.  Know that being enthusiastic and zealous is a good thing only when your zeal is aimed in the right direction. Surrender your passion to the Holy Spirit's control and watch God use it powerfully.

Hold strong convictions, like John.  Don't be afraid of standing up for the truth, no matter what.

Reach the outcasts, like Matthew.  Remember that God loves everyone.  Be willing to reach out to people society has rejected, such as criminals. Be humble enough to serve anyone.

Overcome pessimism, like Thomas and Philip.  Don't let your worries get the best of you.  Look beyond your current circumstances to focus on Jesus, and everything will fall into the proper perspective. Expect miracles to happen when you least expect them.

Recently on Spiritual Life
Have something to say about this article? Leave your comment via Facebook below!
advertise with us
Example: "Gen 1:1" "John 3" "Moses" "trust"
Advanced Search
Listen to Your Favorite Pastors