Switch Your Search from Porn to God
Whitney Hopler, Crosswalk.com Contributing Writer
Wednesday, February 29, 2012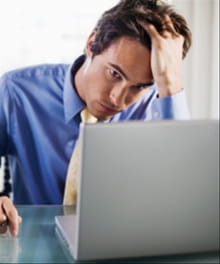 Surrender your brokenness to God. Say "yes" to God's invitation to grow closer to Him by deciding to trust Him to heal your broken soul. Confess your porn addiction and all of your sexual sins to God. Repent of each sin specifically, deciding to turn away from it and toward God. Accept the forgiveness that God offers you, and entrust your weaknesses and wounds to God's redemptive purposes. Tell God that you're ready to work on letting go of porn completely so can experience God's best for you.
Discover your true identity. Your porn addiction doesn't define you, and neither does any other kind of sin in your life. Your true identity is based on the fact that you're one of God's beloved children whom God loves unconditionally. And if you're a Christian, the righteousness that Jesus gave you through His sacrifice on the Cross now covers all of your sins and makes it possible for you to connect with a holy God. Thanks to Jesus, there's a passion for God inside you that's greater than your sinful nature, so you can overcome any sin in this fallen world – including porn addiction.
Pray against evil to break sexual strongholds in your life. Spiritual warfare is a reality that's happening in your life and the lives of others every day, and Satan and his forces of evil are working to try to keep you addicted to porn because of porn's power to interfere with your relationship with God. So consecrate your sexuality to Jesus daily and pray for the power you need to resist temptations to sin sexually.
Understand how porn has wired your brain. Porn use triggers your brain to release a chemical called dopamine that's linked to desire and excitement. The more you use porn, the more it changes the wiring in your brain, creating and strengthening neural pathways that encourage you to keep using porn so you can keep releasing more dopamine, which feels like a reward for the stimulation you're giving your brain. But the stimulation that porn offers isn't healthy.
Rewire your brain. Fortunately, you can rewire your brain to move from unhealthy, addictive patterns to healthy ones by intentionally thinking pure and positive thoughts that reflect biblical truth and pursuing alternate passions (other activities that you enjoy, and especially exercise, which has been shown to increase dopamine receptors in the brain).
Use spiritual disciplines to encounter God in profound ways. Take the time and energy you previously spent on porn and devote it to strengthening your relationship with God instead. Practice spiritual disciples such as silence, solitude, and contemplative prayer to learn how to listen to what God has to say to you throughout your healing process. Over time, your cravings for porn will become weaker and your cravings for God will become stronger!
Adapted from Surfing for God: Discovering the Divine Desire Beneath Sexual Struggle,copyright 2012 by Michael John Cusick. Published by Thomas Nelson Publishers, Nashville, Tn., www.thomasnelson.com.
Michael John Cusick is an ordained minister, spiritual director, and Licensed Professional Counselor who has experienced firsthand the restoring touch of God in a deeply broken life and marriage. In 2001 he founded Restoring the Soul, a ministry whose mission is to provide life changing soul care to Christian leaders. Having served in ministry for more than 25 years – including youth and college ministry – his passion is to connect life's broken realities with the healing power of the gospel. In addition to leading retreats and equipping Christian organizations around the world, Michael currently serves as an adjunct professor at Denver Seminary, where he has taught a variety of groups in spiritual formation. He holds an MA in Biblical Counseling from Colorado Christian University and an MA from the College of Education at the University of Denver. Michael lives with his wife Julianne, and two children, in Littleton, Colorado.
Whitney Hopler is a freelance writer and editor who serves as both a Crosswalk.com contributing writer and the editor of About.com's site on angels and miracles (http://angels.about.com/). Contact Whitney at: angels.guide@about.com to send in a true story of an angelic encounter or a miraculous experience like an answered prayer.
Publication date: February 29, 2012
Recently on Spiritual Life
Have something to say about this article? Leave your comment via Facebook below!
advertise with us
Example: "Gen 1:1" "John 3" "Moses" "trust"
Advanced Search
Listen to Your Favorite Pastors