Teens Find Acceptance - and Christ - at Rocketown
Janet Chismar, Senior Editor, News & Culture
Tuesday, May 25, 2004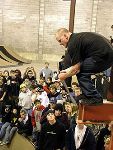 Thompson laughs, "I've actually heard kids in the skate park talk about how much they love Sixth Avenue, but I'll hear them say 'Rocketown stinks! We can't stand that place.' They don't even know they're in the Rocketown building."
Branding and identity are vitally important to these kids, Thompson explains. "We decided if that's what it takes to reach them, then that's what we would do."
It's All About Relationships
According to Thompson, the teens who wander into the club often come from unchurched backgrounds. "We're trying to pick out the kids that the church isn't effective with. Being downtown, we see a lot of fatherless kids. We see a lot of kids who are not really certain what the value of life is. All of the statistics you see in the world, we see in this building. Homosexuality, drug use, violence. These kids are not really used to being served. Most of the conversations that we have had with teens that have led to them receiving the Lord begin with, 'Why are you doing this for me?'"
Thompson points out that in order to reach the unsaved world, Christians must be willing to interact with nonbelievers. Rocketown creates those points of interaction. "We're trying to create this marketplace of ideas and if we really do believe that Christians have the most effective life system, then we want to be in the mix of people to have that discussion."
Christian volunteers and mentors, along with an in-house pastor and teens from area churches, mingle in non-threatening ways with youth from the streets.
For example, says Thompson, Rocketown's dance group is a blend of Christian and non-Christian teens. "They just started having a great time together – doing break dancing and hip-hop. The person who oversees the team is a Christian. Well, I asked her to take it to the next level. I knew they were not ready to talk about Christ, and I didn't want her to force it, but to start adding spiritual reflection. She transformed it into something that was relevant to the group and, all of a sudden, they are having spiritual reflection."
Once the teens start asking questions about God, Thompson explains, it tends to lead to Him. "So we've opened that door with them and went from a big group setting, all the way to a smaller group, into a dialogue that's now leading these kids toward Christ. It's really exciting when that happens."
Another great point of interaction, according to Thompson, is the Skate Park. "From the very beginning, it has been the homerun of Rocketown. Our staff loves these kids and they skate together. We pray with them. During the week, as the staff engages the skaters, they say 'Hey if you're interested, we're going to skate a little bit and have a Bible study on Sunday night.' Now we've got 35-some kids coming to this Bible study."
A Role for the Church
Recently on Spiritual Life
Have something to say about this article? Leave your comment via Facebook below!
advertise with us
Example: "Gen 1:1" "John 3" "Moses" "trust"
Advanced Search
Listen to Your Favorite Pastors