The Satanic Influence
Ray Comfort, The Way of the Master
Friday, September 03, 2004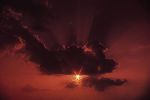 Most people don't think about the subject of Satanism unless there is a grizzly murder, and satanic symbols are found at the crime scene. Many who believe in the devil, usually think of him as being the darkest of figures. What they don't realize is that the Bible tells us that he can also manifest himself as an "angel of light." In reference to false converts within the Church, the Bible says:
For such men are false apostles [spurious, counterfeits], deceitful workmen, masquerading as apostles (special messengers) of Christ . . . And it is no wonder, for Satan himself masquerades as an angel of light; So it is not surprising if his servants also masquerade as ministers of righteousness... 2 Corinthians 11:13-15 (Amplified Bible)
Satan is incredibly subtle. We are warned that he uses professing men of God (ministers of righteousness) to deceive the Church. The Bible calls him "the god of this world," and says that he blinds the minds of unbelievers. Jesus called him "the prince of this world," and "the father of lies."
The Scriptures continually warn the Church against his wiles (his methods), using words such as "be not deceived," and telling us to "be vigilant." Well, has our Satan had any influence on you and me? Is there any deception with the Church? That's what we are going to look at closely. We are going to look at perhaps the greatest and most subtle of Satan's deceptions.
You may not be familiar with the story Jesus told of the Prodigal Son, so let's take a moment to consider what it says. The Prodigal Son asked his father for his inheritance, then went into a far country and spent all his cash on parties and prostitutes. He enjoyed "the pleasures of sin." But after a famine hit the land, his money ran out, and the only job he could get was feeding pigs.
He became so hungry that he found himself desiring the food that the pigs were eating. Suddenly, he "came to himself"--he came to his senses. Realizing that even his father's servants had it better than he did, he decided to return and say, "Father, I have sinned against heaven and in your sight. Take me on as a hired servant." So he got up out of the pigsty and went back to his father.
His father was looking for his son's return, and the Bible says that "he saw him while he was yet a great way off." He ran to his son, fell upon him, kissed him, and rejoiced that he had returned. He freely forgave him and returned him to his former state.
This is a picture of every person before they come to Christ. We turned from God to serve the devil and the pleasures of sin. The Bible says that there is a "spirit" that works in the children of disobedience. 1 John 3:8 says "He that commits sin is of the devil..." Jesus even told the religious hypocrites of His day that their father was the devil:
You are of your father the devil, and the lusts of your father you will do. He was a murderer from the beginning, and abode not in the truth, because there is no truth in him. When he speaks a lie, he speaks of his own: for he is a liar, and the father of it. John 8:44
Unsaved people live in the Kingdom of Darkness. It's as simple as this, if we are serving sin, we are serving Satan. Our appetites are unclean. We desire pig food. Consider what we crave. Think of the contents of the average soap opera or prime time television show --adultery, jealously, lust, fornication, rape, gossip, and greed. Or the average movie today with its violence, filthy language, explicit sex, and graphic murder.
Recently on Spiritual Life
Have something to say about this article? Leave your comment via Facebook below!
advertise with us
Example: "Gen 1:1" "John 3" "Moses" "trust"
Advanced Search
Listen to Your Favorite Pastors