Uncovering Fool's Gold: Discern Truth in an Age of Error
Whitney Hopler, Live It Editor
Thursday, May 19, 2005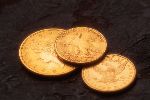 Scrutinize Christian books and articles against holy Scripture. Don't embrace everything that's written in a book or article just because it's labeled "Christian." Check to make your supplemental books and articles treat the Bible accurately and respectfully, and that they don't add or delete any biblical truth. Make sure they draw upon the Bible as their main source of information, and that they don't overemphasize extrabiblical sources. Examine their biblical interpretation to see if it's in context and balanced with the full canon of Scripture. Test to see if the authors approach God's Word on His terms rather than with their own agendas (looking for verses to try to support their own ideas).
Beware of trendy Bibles. Keep in mind that the Bible and its message are fundamentally countercultural. When it comes to Bibles packaged in culturally relevant ways, make sure you're not trading the eternal for the temporal, the lasting for the trendy, the essential for the trivial, the transcendent for the transient, and the profound for the mundane.
Use solid music to worship. Know that the Bible tells Christians to teach and admonish one another in psalms, hymns, and spiritual songs. Don't settle for trite, superficial songs that don't contain an emphasis on some aspect of biblical truth. Make sure your church's music is focused on God, promotes a high view of God, is orderly, is biblically sound, promotes unity in your church, is performed with excellence, prepares the congregation for God's Word to be preached, witnesses to Jesus' greatness, promotes passionate worship, and is based on biblical principles.
Rethink altar calls. Don't confuse a person's coming to faith with simply coming down an aisle at church. Understand that salvation is God's work; we shouldn't feel that we have to manipulate Him to act. Know that the test of discipleship is not a one-time decision; Jesus calls people to a life that continually confesses Him before people. Don't lead people to base their eternal salvation on a one-time confession - an act on their part. Instead, encourage them to trust in the promises of God, the sacrifice of Jesus, and the sanctifying work of the Holy Spirit. Encourage people to make public professions of faith through believer's baptism and by living their lives for God's glory every day.
Rethink political activism. Don't expect to influence society primarily by legislative means. Know that there is something more powerful than mobilizing political clout as a voting bloc, organizing mass boycotts and protests, or electing Christians to public office. Understand that the best way to positively influence society is through the witness of transformed lives. Strive to live a holy life that shows people how Jesus has changed your life for the better. Know that personal holiness (not political dominion) is what causes people to glorify God.
Combat consumerism. Focus on God rather than yourself when choosing a church. Rather than viewing yourself as a customer in search of a religious product (a church) that can meet your felt needs and desires, see yourself as God sees you - a servant who should honor Him and seek to grow closer to Him. Instead of shopping for a church that fits your criteria, ask God if a potential church meets His expectations.
Recently on Spiritual Life
Have something to say about this article? Leave your comment via Facebook below!
advertise with us
Example: "Gen 1:1" "John 3" "Moses" "trust"
Advanced Search
Listen to Your Favorite Pastors