What Do You Believe About the Bible?
Marvin A. McMickle
Sunday, April 01, 2007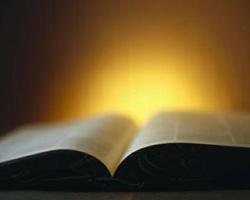 If this is going to be reversed, we will need to offer them a compelling reason for why they ought to adopt the Bible as the guide for their lives. My task today is to set forth the four reasons why I believe in the Bible, why I trust in the teachings of the Bible, and why I think you and I should be careful to safely pass the Bible on to the next generation.
Let me give you my four reasons for wanting to pass the Bible on to the next generation. First, the Bible has greater longevity than any other book ever written. Parts of the Bible date back to the 13th century BC. That means that for 3400 years or for what equates into 136 generations, the Bible has been passed on through the years. Name any other book that has lasted as long as the Bible? Name any other book that has endured the test of time and the passing of the years like the Bible? Part of its mystery and its authority is related to its age.
There are books written by the greatest theologians in history that are not being read by anyone after 20-30 years, but the Bible remains alive after 2,000 to 3,000 years. Over 90% of the books in the library at Harvard University are on microfilm. They are not being reprinted for any further use because nobody is reading them any more. Their content is considered to be outdated, irrelevant and obsolete. I know about this "out of print" business first-hand. I have written eight books between 2000 and 2006. My first book enjoyed an initial run of 1,000 copies. It was a local publisher and he did not want to get stuck with any unsold copies of that book. However, after those 1,000 copies had been sold there were no more copies of that book available. You might see a copy on e-bay or on Amazon.com. Otherwise, that awful phrase, "out of print" is now written across the cover of my first book.
The subsequent books have suffered a better fate in that each of them is still in print and doing well. However, the deal with the publisher is that in any year when sales of one of your books falls below 50 copies they cease to promote or market that book. The assumption is that the marketplace is no longer interested in that book any longer. I should probably remind you that most of the books ever written are either out of print already or tottering on the edge. Either way, whether your book is out of print or just being ignored; most books written by human hands have a limited span of years.
I remember checking a book out of my college library in 1968 by a man named Paul Tillich. He was one of the greatest theologians of the 20th century. Everybody was reading Paul Tillich at that time. About twenty years later I went to the campus to speak in the chapel, and afterward I went to browse in that same library. I stumbled up on that same book by Paul Tillich and looked to see who had turned to that book for wisdom since I had checked it out in 1968. This was still in the day when you checked a book out of the library by signing your name to a card in the back of the book that was kept at the front desk by the librarian. I was shocked to discover that between 1968 and 1990, mine was still the last name on the card. Nobody had read or consulted or checked that book out in over twenty years. And yet, every day since 1968 people have been turning to the Bible for light and direction. No wonder Isaiah writes, "The grass withers and the flower fades, but the word of our God shall stand forever." I love and trust the Bible because of its length of existence.
There is a second reason why I love the Bible, and that has to do with its breadth. There is no other book on earth that has been translated into as many different languages as the Bible. There is no other book on earth that has been translated into as many different versions as the Bible. There is no other book on earth that has sold as many copies as the Bible. This is not a book just for Christians in America; this is the book for over one billion Christians around the world. It is a universal message that speaks to people on every continent on earth. When a book has existed for as long as the Bible has existed and is in use in as many places around the world as the Bible is, I want to read and learn from and put my faith in that book.
Recently on Spiritual Life
Have something to say about this article? Leave your comment via Facebook below!
advertise with us
Example: "Gen 1:1" "John 3" "Moses" "trust"
Advanced Search
Listen to Your Favorite Pastors