Your Obedience is the Key to God's Work in Your Life
Whitney Hopler, Live It Editor
Thursday, July 21, 2005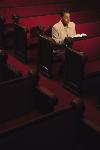 Cry, "Abba, Father!" Don't be afraid to approach God like the beloved child of His you are. Know that He wants you to develop into a true son or daughter, who feels at home with God and begins to think like Him and feel with Him. Understand that this is possible when you invited His Holy Spirit to live inside you. No matter how your human father or mother may have failed you, believe that your heavenly Father will never let you down. Embrace God as your Father by choosing to obey Him out of love.
Recognize the difference between opinion and truth. Understand that you don't truly know anything unless God reveals it to you. Humble yourself enough to realize that even your most dearly held opinions can change if they're not firmly rooted in divinely revealed truth. Cling to the living God rather than your opinions. Don't let that which is merely human obscure the divine. Don't waste time or energy arguing with other people over your opinions, no matter how strongly you hold them. Instead, pray that if your opinions are true, God Himself will reveal that to the people you would like to be convinced of them. Spread truth not just by talking about it, but by living it out in front of others so they can see God's light shining brightly through your life. Remember that the more you love God, the more His truth will emanate from you.
Mirror Christ's likeness. Ask the Holy Spirit to live inside you and invite Him to change you, so that over time you develop more and more into someone whose life mirrors the way Christ lived on earth. Ask God to infuse you with His light so you can reflect it to others. Shine God's light as brightly as you can by living in obedience to Him, motivated by love. Know that doing so will dispel the darkness of this world around you and cause other people to want to follow the light themselves.
Look forward to the resurrection. View your current, mortal body simply as a tool for learning how to draw closer to God while you're on earth. Know that it will pass away when you leave this world, like an old garment that's discarded for a new and better one - your glorified resurrection body. Trust that, as you choose to be obedient to God, He will respond by revealing more and more of Himself to you. That revelation begins here on earth and will continue forever in heaven. Start now by following God, the Creator and Master of your body and your entire life.
---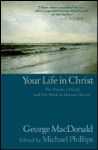 Adapted from
Your Life in Christ: The Nature of God and His Work in Human Hearts
, copyright 2005 by George MacDonald, edited by Michael Phillips. Published by Bethany House Publishers, Bloomington, Mn., 
www.bethanyhouse.com
.
George MacDonald (1824-1905), the Scottish Victorian writer, began his adult life as a clergyman. After a short career in the pulpit, he turned to writing, and with publication of his novels in the 1860s, he became widely known throughout Britain and the United States. He wrote some 50 books, in addition to his novels, including poetry, short stories, sermons, and essays.
Michael Phillips is a best-selling author with more than 70 of his own titles and editor/redactor of nearly 30 more books. He is known as one of the foremost MacDonald experts in the world. In addition to the MacDonald titles adapted/edited for today's readers, his publishing efforts in bringing back full-length quality facsimile editions also spawned renewed interest in MacDonald's original work. Michael and his wife, Judy, spend much of their time in Scotland, while making their home in California.
Recently on Spiritual Life
Have something to say about this article? Leave your comment via Facebook below!
advertise with us
Example: "Gen 1:1" "John 3" "Moses" "trust"
Advanced Search
Listen to Your Favorite Pastors