Your Relationship With Jesus: Fan or Follower?
Kyle Idleman, Author
Friday, July 06, 2012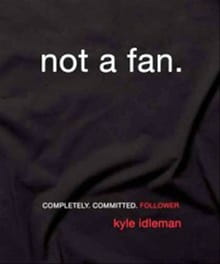 It may seem that there are many followers of Jesus, but if they were honestly to define the relationship they have with him I am not sure it would be accurate to describe them as followers. It seems to me that there is a more suitable word to describe them. They are not followers of Jesus. They are fans of Jesus.
Here is the most basic definition of fan in the dictionary:
"An enthusiastic admirer"
It's the guy who goes to the football game with no shirt and a painted chest. He sits in the stands and cheers for his team. He's got a signed jersey hanging on his wall at home and multiple bumper stickers on the back of his car. But he's never in the game. He never breaks a sweat or takes a hard hit in the open field. He knows all about the players and can rattle off their latest stats, but he doesn't know the players. He yells and cheers, but nothing is really required of him. There is no sacrifice he has to make. And the truth is, as excited as he seems, if the team he's cheering for starts to let him down and has a few off seasons, his passion will wane pretty quickly. After several losing seasons you can expect him to jump off the fan wagon and begin cheering for some other team. He is an enthusiastic admirer.
It's the woman who never misses the celebrity news shows. She always picks up the latest People magazine. She's a huge fan of some actress who is the latest Hollywood sensation. And this woman not only knows every movie this actress has been in, she knows what high school this actress went to. She knows the birthday of this actress, and she knows the name of her first boyfriend. She even knows what this actress's real hair color is, something the actress herself is no longer certain of. She knows everything there is to know. But she doesn't know the actress. She's a huge fan, but she's just a fan. She is an enthusiastic admirer.
And I think Jesus has a lot of fans these days. Fans who cheer for him when things are going well, but who walk away when it's a difficult season. Fans who sit safely in the stands cheering, but they know nothing of the sacrifice and pain of the field. Fans of Jesus who know all about him, but they don't know him.
But Jesus was never interested in having fans. When he defines what kind of relationship he wants, "Enthusiastic Admirer" isn't an option. My concern is that many of our churches in America have gone from being sanctuaries to becoming stadiums. And every week all the fans come to the stadium where they cheer for Jesus but have no interest in truly following him. The biggest threat to the church today is fans who call themselves Christians but aren't actually interested in following Christ. They want to be close enough to Jesus to get all the benefits, but not so close that it requires anything from them.
An Accurate Measurement
So Fan or Follower? The problem with asking that question of yourself is this: it's almost impossible to be objective. After all, if you say, "I'm a follower," what makes you so sure? What are the measurements that you use to define your relationship with Christ? Most would determine the answer to this question by using a highly subjective method of measurement.
Many fans mistakenly identify themselves as followers by using cultural comparisons. They look at the commitment level of others around them and feel like their relationship with Jesus is solid. Essentially they grade their relationship with Jesus on the curve, and as long as they are more spiritual than the next guy, they figure everything is fine. That's why some fans are almost glad when it's found out that the Christian family everyone admires has a child who rebels or a marriage that is struggling to stay together and isn't as perfect as it appeared. The curve just got set a little lower.
Recently on Spiritual Life
Have something to say about this article? Leave your comment via Facebook below!
advertise with us
Example: "Gen 1:1" "John 3" "Moses" "trust"
Advanced Search
Listen to Your Favorite Pastors