Your Relationship With Jesus: Fan or Follower?
Kyle Idleman, Author
Friday, July 06, 2012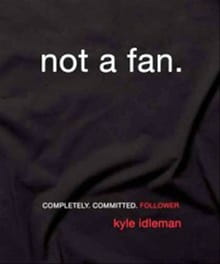 Have you noticed that when we compare ourselves to others as a way to measure our relationship with Christ we almost always put ourselves up against those who are spiritually anemic? I have a tendency to take this approach in measuring myself as a husband. I try and convince my wife how good she's got it by pointing to her friend whose husband never takes her on a date, or by telling her about my buddy who forgot his twenty-year anniversary. I've learned that when I start comparing myself to other husbands as a way to measure how I am doing as a husband, I am doing so out of conviction and guilt that I am actually not loving my wife the way I need to. If you find yourself measuring your relationship with Jesus by comparing yourself to others, that is likely a self-indictment.
Another measurement fans use is a religious ruler. They point to their observance of religious rules and rituals as evidence that they are really followers. After all, they reason, would a fan go to church every weekend, and put money in the offering, and volunteer in the nursery, and listen exclusively to Christian radio, and not see r-rated movies, and only drink a wine cooler at the party? Hello? Of course I'm a follower. I'm not doing all that for nothing!
We have other ways to determine if we are followers. Denominational measurements, our family heritage, and biblical knowledge are all ways we try to prove that we really are followers. But here's the real question: how does Jesus define what it means to follow him? Whatever measurement he gives is the one we should use.
Diagnosing Fandom
The Gospels record many examples of people having the D.T.r. talk with Jesus. In each encounter the person finds themselves in a position where the question "Fan or Follower?" has to be answered. Some are shown to be true followers; others are revealed to be nothing more than enthusiastic admirers. As we examine a number of these encounters, think of them as case studies that reveal different "symptoms" of being a fan.
The biblical accounts of Jesus requiring people to define the relationship and honestly determine if they were true followers give us some telltale symptoms of being a fan. As we study these D.T.r. encounters with Jesus they will act as a mirror so we can have a more honest assessment of ourselves. Fans often confuse their admiration for devotion. They mistake their knowledge of Jesus for intimacy with Jesus. Fans assume their good intentions make up for their apathetic faith. Maybe you've already decided you're a follower and Not a Fan; well, I hope you keep reading, because one of the core symptoms of "fandom" is that fans almost always consider themselves to be followers.
So find a seat in the back of a coffee shop and read on. Let's honestly and biblically define the relationship. Are you a follower of Jesus? Or are you really just a fan?
Taken from Not a Fan by Kyle Idleman. Copyright © (2011). Used by permission of Zondervan. www.zondervan.com.
Kyle Idleman is the teaching pastor at Southeast Christian Church in Louisville, Kentucky, the fifth presenter of the award-winning video curriculum series H20: A Journey of Faith and The Easter Experience. Kyle and his wife, DesiRae, have four young children.
Publication date: July 6, 2012
Recently on Spiritual Life
Have something to say about this article? Leave your comment via Facebook below!
advertise with us
Example: "Gen 1:1" "John 3" "Moses" "trust"
Advanced Search
Listen to Your Favorite Pastors