How Do You Let God Work in Your Life?
Sara Goff, Lift the Lid, Inc.
Tuesday, August 16, 2011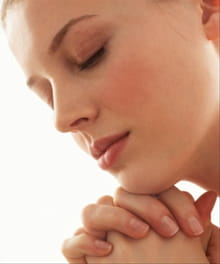 We have the perfect excuse not to let God work in our lives. We're human. It's our natural instinct to want to control our environment. If it were otherwise, we wouldn't be the proud iPod carriers that we are today. But what if we went beyond the horizon of our own understanding and trusted in God to guide us? What more could we achieve? God has a way of raising our level of potential, until we're shocked by our own accomplishments. And He brings people into our lives who help to make this possible. It's up to us to follow His lead. But . . . how?
Jesus called to the fishermen, his future disciples, and "Immediately they left their nets and followed Him." Matthew 4:20 (NASB) A fisherman leaving behind his net is like a writer leaving behind her laptop, without first backing up its hard drive. Here are some examples of following God's guidance that might make letting go of our 'nets' less scary.
Linda Rohrbough, award-winning author, entrepreneur, and writing-coach, tells a unique story of surrender that gave God the opportunity to bless her life. In 2007, she was invited to a luncheon in Amarillo, Texas, a six-hour drive from where she was living at the time. Her writer friend Jodi Thomas was hosting a best-selling author and distinguished editor, and encouraged Linda to stay the weekend and meet them. Linda arrived late the evening before, and so did Jodi, coming home from a long book tour. When Linda came downstairs the next morning, Jodi was busy preparing food and looked exhausted. Linda worked alongside her, but before everything was ready, they had a houseful of guests.
In the living room, writers gathered around the famous author and editor as if being told the secret password to getting published. Linda faced a dilemma: should she continue helping with the food, or start networking? She had given up the weekend to meet the best-selling author in particular, one of her all-time favorites, Debbie Macomber. Perhaps Debbie might even give her some advice about breaking into the fiction market . . . . Linda turned back into the kitchen and told Jodi to go greet her guests; she'd take care of lunch. Listening to her heart, she surrendered her expectations to God.
What started as helping to get the food served, ended with helping to clear it away, and Linda had barely spoken to either of the luminary guests. Resentment and frustration could have gnawed at her throughout the afternoon. She had not been pro-active in advancing her career. Of course, she felt some disappointment, but since she had surrendered her expectations, she didn't have as far to fall. In her heart, she was glad to have helped her friend, and in her mind, she was sure God would see to her writing.
After the last business card was exchanged, guests said their good-byes, well-fed and inspired. Linda dried her hands on a damp dishtowel, not looking forward to the long drive home. Jodi thanked her profusely for pulling off a seamless luncheon, and then asked if she wanted to join her and Debbie for a tour of Amarillo. Well, Linda accepted.On their outing, Debbie told about her long-term struggle with weight gain. She felt it was a roadblock in her faith, something that God wanted her to fix, and yet she failed, time and again. With the excitement of a child doing show-and-tell, Linda shared her story of losing more than 140 pounds with the Lap-Band®. She was even working on a book with her surgeon, Weight Loss Surgery with the Adjustable Gastric Band. Suddenly it seemed that God was connecting the dots.
Debbie wasn't sure about "the Band," however. Besides, wincing at the word 'surgery,' she believed she needed to defeat the demon of weight gain herself, alone. Eventually, she put her trust in God and surrendered control, asking Linda to become her 'coach.' Linda shared the information she was collecting for her book and gave moral support for years, under sworn secrecy. In return, Debbie helped Linda with her writing and endorsed her work. A trusting friendship formed.
Have something to say about this article? Leave your comment via Facebook below!
advertise with us
Example: "Gen 1:1" "John 3" "Moses" "trust"
Advanced Search
Listen to Your Favorite Pastors