How Do You Let God Work in Your Life?
Sara Goff, Lift the Lid, Inc.
Tuesday, August 16, 2011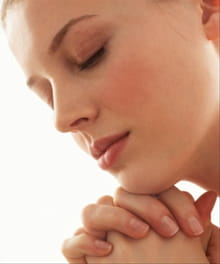 Debbie has lost over 80 pounds, and the roadblock in her faith is gone, allowing her to see God at work in her life through other people. She revealed her secret in her 2010 book, God's Guest List (see Chapter Three), andnow Linda can speak openly about how they met. In the book, Debbie tells the story of that fateful luncheon when Linda sacrificed her expectations, surrendering to God's will, and He opened a glorious door in both their lives.
Another example of dropping our 'net' to follow God comes from Paula Mowery, a writer for ChristianMagazine.org, a pastor's wife, and a home school mom from Morristown, Tennessee. She allowed God to work in her life when she took her vocation outside her church. Paula was plenty busy working within her church, serving a congregation of hundreds. But she felt conflicted about not reaching out to the lost in her community, the ones who don't know Him. She prayed about it and was heard.
At a town association meeting, the director of a local pregnancy center made an appeal for volunteers to cook meals for their night classes. Paula responded, thinking the women's ministry at her church could get involved, and then she listened to her heart and asked if she could perhaps lead a Bible study. The director exclaimed, "I can't believe it! I know God has been working in this. My devotional leader had to step down, and I have been trying to do the devotions myself, but it's been hard with my other responsibilities."
Now Paula was committed to serving outside the security of her church. Not only did she have to make time to prepare lessons and attend classes, she had to face her fear of reaching out to those who might reject her beliefs. The first night arrived and she stood before the young single mothers, feeling anxious. She had a limited time to work with them, some of whom had obviously developed hard hearts from years of abuse and/or drug use. They wore their doubt like a spiked robe. What if she couldn't reach them? Or what if they retreated even further into darkness? She prayed that God would speak through her, and then she did the only thing she could and opened her heart to the women.
After the first class, the director noted how well everyone paid attention. Paula blushed, admitting that as an interpreter for the deaf, she tended to be animated. The second night, some of the women even talked about their situations, which the director referred to as a "Wow" moment. At the end of the course, Paula offered a challenge to the women: that they read Proverbs every day and see if God speaks to them through any of the verses.
She prays daily for God to work in those young mothers' lives, and she sees how He is working in hers, as she continues to reach out to the lost in her community. By following the examples Jesus set, serving those floundering in sin, she's become a role model to her family and congregation. The gifts of understanding and compassion she has gained have not only helped her to be a better pastor's wife, but a better mother and teacher to her daughter.
In 2005, while living in Manhattan, I prayed about making a difference in other people's lives. Shortly thereafter, I came across an opportunity at The National Arts Club and applied to volunteer in local high schools as a writing workshop leader. Having attended a small Catholic school in Upstate New York, every muscle in my body went weak the first time I walked into a school the size of a city block, passing through metal detectors and signing in with a security officer. Students greeted me with hard stares and skepticism as I struggled to keep a steady voice. But by the end of my first workshop, after my students had found the courage to express themselves and the fortitude to rewrite, the comments were along the lines of "writing has changed my life." I felt elated!
Have something to say about this article? Leave your comment via Facebook below!
advertise with us
Example: "Gen 1:1" "John 3" "Moses" "trust"
Advanced Search
Listen to Your Favorite Pastors