How Jane Austen's Spiritual Wisdom Can Guide Today's Women
Whitney Hopler, Crosswalk.com Contributing Writer
Thursday, June 07, 2012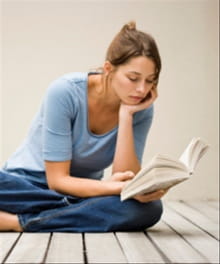 Editor's note: The following is a report on the practical applications of Lori Smith's new book, The Jane Austen Guide to Life: Thoughtful Lessons for the Modern Woman, (Skirt! Books, 2012).
Many modern women enjoy the classic romance novels written by English author Jane Austen in the 19th century, because Austen's astute understanding of human nature have imbued her stories with a timeless appeal. Austen, who has come to be considered a sort of patron saint of romance, was a Christian whose faith is reflected in the spiritual lessons that her novels and the story of her life can teach readers today.
Here's some advice Austen might give you if she were alive today:
Live your dreams as much as possible. Bravely take whatever risks are necessary to follow your dreams, as God leads you. Don't let other people's expectations prevent you from nurturing your dreams. Cherish the people who believe in you and support your efforts to follow your dreams. Don't let a desire to be rich derail you from doing the type of work that you most love to do. Don't give up when you encounter setbacks or delays; keep working persistently toward your goals. Keep your expectations realistic. Work hard and be grateful for whatever success you achieve. Put your God-given gifts to use by sharing them with the world.
Become a person of substance. Invest time and energy regularly into getting to know yourself better and seeking God's help to become the person He wants you to become. Rather than occupying your mind with silly, foolish thoughts, think about substantial topics that will help you learn and grow. Value people for the quality of their moral character instead of traits that don't have eternal value, such as how rich or popular someone happens to be. Be willing to do what's right, even when it hurts to do so. Learn how to be a good conversationalist. Keep trying to grow in holiness and relying on God's grace. Enjoy life, and nurture a sense of humor along the way.
Think wisely about romantic love. Approach romantic relationships with wisdom. Don't take romance so seriously that you can't enjoy it and laugh about it. Don't place too much faith in the "love at first sight" initial physical attraction you may feel to someone. Be open to changing your mind about a man once you get to know him better.
Examine your motivations and beware of pride or vanity, which can impair your judgment. Don't choose a man based on your friends' advice; instead, make your own decisions. Consider as potential romantic partners only men who have strong character that you truly respect. Remember that real romance isn't like a fairy tale; be realistic. Keep your hope of finding romantic love alive, even as you grow older. Don't overanalyze romance but embrace the mysteriousness of it.
Make wise decisions about sex. Don't let your passion overcome your values. Realize that men who want to have sex with you may not actually love you. Expect to encounter unfair romantic situations and be prepared to protect yourself from mistreatment. Think through your own beliefs about sex, as well as the reasons why your beliefs are important to you. Approach romance with your head as well as your heart. Recognize that true love can be both passionate and gentle.
Search for a good man. When looking for a romantic partner, look for someone who is attractive to you personally (in every way, from spiritually to physically), despite other people's opinions. Prepare to be surprised in your quest. Don't hesitate to have high standards, but don't become preoccupied with the idea that there's only one right man in the whole world for you. While you're searching for the right man, become the right woman by working on your character. Be patient and wait for God's timing.
Have something to say about this article? Leave your comment via Facebook below!
advertise with us
Example: "Gen 1:1" "John 3" "Moses" "trust"
Advanced Search
Listen to Your Favorite Pastors