Moms: How to be a Prayer Warrior for Your Kids
Whitney Hopler, Crosswalk.com Contributing Writer
Thursday, July 04, 2013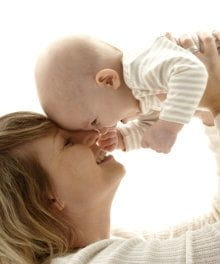 Editor's Note: The following is a report on the practical applications of Maria Alupoaicei's new book, Prayer Warrior Mom: Covering Your Kids with God's Blessing and Protection (Thomas Nelson, 2013).
As a mom, you know how much your children rely on you in every aspect of your family's life. That knowledge can sometimes feel overwhelming, since there's only so much you can do even when you're giving your best effort to motherhood.
Thankfully, there's no limit to what God can do for your kids through you. You never have to worry about keeping up with too many responsibilities when you make prayer a high priority. When you rely on God through prayer, His strength will empower you and flow through your life into your children's lives.
So become a prayer warrior of spiritual strength for your kids. Here's how:
Cultivate an attitude of gratitude. Choosing to be grateful every day helps you overcome unhappiness, discontentment, and negativity, even in the worst circumstances you may encounter as a mom. Train yourself to notice the many reasons you have to be thankful, both big (such as the complete and unconditional love that God gives you and the children He has entrusted you with raising) and small (such the daily blessings God pours into your life). Make a habit of expressing gratitude to God often for who He is and how He is working in your life. The more you do so, the more grateful you'll feel. Keep a journal in which you record specific blessings for which you're thankful, and read it when you need encouragement. Discuss God's blessings with your children and pray prayers of gratitude with them to thank God together regularly.
Pray scripture. When you incorporate Bible passages into your prayers for your children, you invite scripture's living and active power work in your family's life together. Read, study, and meditate on scripture often. Then you'll have plenty of it stored up in your mind to access when you want to use verses that relate to various topics about which you're praying. Personalize scripture passages by adding your children's names and other specific details about the situations you're bringing to God in prayer while claiming God's biblical promises for your own family's life. Consider writing out some of your favorite scripture passages on note cards and carrying them with you in regularly (such as in your purse or in your car) to read and pray over often. Give your children copies of some of the Bible verses you regularly pray for them, so they'll have tangible reminders of your devotion to them and faithfulness in both Bible reading and prayer.
Stand in the gap between heaven and earth. You can use intercessory prayer to stand in the spiritual power gap between heaven and earth for your children. In heaven, God sends his love, resources, mercy, and provision toward His people on earth, but some of God's blessings get blocked by sin before they reach people's lives. Your prayers on behalf of your children make it possible for you to reach up and pull down the blessings that God has prepared for them. Consider taking prayer walks around your neighborhood or children's schools while interceding for them and asking God to help you cultivate the right attitudes and behaviors in their lives.
Satisfy the conditions for answered prayer. In a sense, God always answers prayer, with either "yes," "no," or "wait." But God is more likely to answer "yes" to prayers that people pray according to biblical principles that describe the conditions for answered prayer. Those include: approaching God with an attitude of humble submission; coming to God with pure motives; refraining from asking for anything that contradicts God's Word, the Bible; having faith without doubting; being single-mindedly focused on pursuing a relationship with God as a top priority; praying for God's will to be done; approaching God with confidence; praying to the Father in the name of Jesus Christ through the power of the Holy Spirit; confessing sin and repenting of it; and obeying God's command to forgiving others.
Have something to say about this article? Leave your comment via Facebook below!
advertise with us
Example: "Gen 1:1" "John 3" "Moses" "trust"
Advanced Search
Listen to Your Favorite Pastors