12 Questions to Ask Before You Get Married
Whitney Hopler, Crosswalk.com Contributing Writer
Saturday, January 07, 2012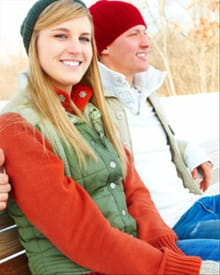 It's now more common for marriages to fail than it is for them to last a lifetime. But you can still get married with the confidence that you'll enjoy the healthy, holy marriage God wants you to have if you invest time before getting married into asking wise questions. Making time to consider key questions will help you and your future spouse head in the right direction: one that leads toward God's purposes for both of you.
Here are some crucial questions to ask before you get married:
Are you willing to grow up? Your own maturity level, and that of your spouse, will determine how well you all can work together in marriage and how likely you all will be to stick with your relationship or give up on it. So each of you needs to honestly assess your current spiritual, emotional, social, and financial maturity by reflecting on issues such as how much self-control you each have, how much you respect authority, how much you can say "no" to some activities so you can say "yes" to those that are best for you, how much peace versus drama you have in your relationships with others, how often you keep your promises and follow through on commitments, whether or not you have a job that pays your bills, and whether or not you're in debt.
Are you "equally yoked"? It's never God's will for you to be yoked (tied together) in marriage with someone who's not a Christian, because a person who's not connected to Jesus can't head in the same direction as you can. Don't deceive yourself into thinking that you can pull an unbelieving spouse closer to Jesus; what happens instead in marriages between believers and unbelievers is that the unbelieving spouse pulls the believing spouse further away from Jesus. Realize that you can fall in love with anyone you happen to be attracted to, but that doesn't mean that you should marry them.
Have you talked about money? Disclose all of your financial information to the person you're considering marrying, and expect full disclosure from him or her, too. Talk about how each of you plans to earn, spend, save, give, and invest money if you get married, and why. If you discover that one or both of you doesn't currently have a healthy budget or healthy money management attitudes or habits, get help and make changes before getting married to save yourselves from having to go through tremendous stress afterward.
Will you tell the truth? You and your future spouse must tell each other the whole truth about the romantic relationships that you've each had with other people previously, regardless of how wild or mild they were. Share all of the details with each other honestly, listen to each carefully, and give each other mercy as God does if you have each sought His forgiveness for your sins and repented of any unhealthy behaviors.
Will you commit? Marriage as God designed it requires a lifetime commitment. So you and the person you're considering marrying should face your fears about that and discuss issues such as how you plan to handle disagreements and crises that may come up in your future marriage, such as illness and job loss. Determine whether or not both of you are willing to trade the lives you have now for a new life together, and whether or not you're willing to eliminate the option of divorce and keep turning to God for the strength to keep working on your marriage.
Are you compatible? Realize that just because you love someone doesn't mean that person is a good match for you. Honestly evaluate which personality traits and personal habits you can live with for many decades in a future marriage, and which will drive your marriage apart. Let go of any person who isn't truly compatible with you to save you both years of heartache.
Recently on Engagement & Newlyweds
Have something to say about this article? Leave your comment via Facebook below!
advertise with us
Example: "Gen 1:1" "John 3" "Moses" "trust"
Advanced Search
Listen to Your Favorite Pastors