Beyond Valentine's Day: Having a Missional Marriage
Whitney Hopler, Crosswalk.com Contributing Writer
Wednesday, February 05, 2014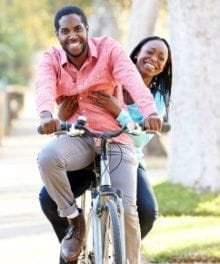 On Valentine's Day, couples typically look inward as they focus on their own romantic relationships. But the man whose life inspired the holiday – Saint Valentine – encouraged couples to look outward to how their marriages could contribute to the world.
Valentine, a priest in 3rd century Italy, believed that marriage is an important part of the God-given mission in life for people who sense God's call to get married. He saw that God used loving Christian marriages to show people the power of His love in action, and to inspire them to seek His love through their own relationships with Jesus Christ.
So passionate was Valentine's belief in missional marriages – in which spouses work together to serve God and other people – that he continued to marry people even after the Roman emperor Claudius II outlawed weddings to try to prevent his soldiers from becoming distracted from their work by giving their attention to marriage. When Claudius heard about Valentine's illegal wedding ceremonies, he sent Valentine to prison, where Valentine continued to witness to people about the power of God's love, even though he could no longer perform weddings.
Eventually, Valentine was martyred for the risks he took standing up for his convictions. The day of his death – February 14th – later became a day in the ancient church calendar to remember Valentine's faithful life. Over the years, people who were inspired by Valentine's commitment to romantic love as a gift from God with a missional purpose started celebrating romance on February 14th, calling the holiday "Valentine's Day."
Celebrating romance in your marriage on Valentine's Day is a great idea. But an even better idea is to use Valentine's Day as a time to seek God's guidance together about his mission for your marriage.
That mission goes far beyond the love between you and your spouse; it encompasses every person who knows either one of you. The daily decisions you each make about how to relate to God and each other show people a story that makes powerful statements about the meaning of faith and love.
What is your marriage showing people about placing their faith in Jesus Christ and letting his love flow through them? Are you and your spouse working together to intentionally communicate the Gospel message to others through your marriage?
In order to do so, it helps to keep in mind that marriage is meant to be an illustration of the deepest love of all: Jesus' love for the people he came to save. The marital union between a husband and a wife is "a profound mystery – but I am talking about Christ and the church," the Bible says in Ephesians 5:32.
Every Christian marriage has a mission. What better time to discover that mission for your own marriage than Valentine's Day, the holiday that honors the life of a man who did whatever it took to stand up for the importance of missional marriage?
Here are some ways you can discover and pursue God's mission for your marriage this Valentine's Day:
Pray about your mission together. Ask the Holy Spirit to help you and your spouse clearly discern God's mission for your marriage. Identify each other's core values, pray for the wisdom to see how those values align with God's purposes for your lives, and ask for guidance on how you can best work as a team to fulfill your God-given purposes in life together. Keep praying as new insights emerge, and take notes on what the Holy Spirit shows you.
Consider the Holy Spirit's work in your lives. Ask: "What are some specific ways that we could show people who know us some evidence of the Holy Spirit at work in our relationship with each other? How could we model love, joy, peace, patience, kindness, goodness, faithfulness, gentleness, and self-control as we interact with each other?" For instance, if you and your spouse clearly enjoyed each other's company and showed it (such as by hugging, kissing, smiling, and laughing often together), your marriage would stand out from many others and attract people's attention, inspiring them to discover more about the source of your joy: the Holy Spirit's work in your lives.
Recently on Engagement & Newlyweds
Have something to say about this article? Leave your comment via Facebook below!
advertise with us
Example: "Gen 1:1" "John 3" "Moses" "trust"
Advanced Search
Listen to Your Favorite Pastors