Set the Right Expectations for Marriage
Whitney Hopler, Crosswalk.com Contributing Writer
Thursday, September 15, 2011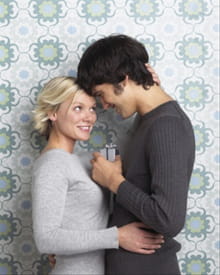 Editor's Note: The following is a report on the practical applications of Margaret Kim Peterson and Dwight N. Peterson's book, Are You Waiting for "The One"?: Cultivating Realistic, Positive Expectations for Christian Marriage, (IVP Books, 2011).
Too often, people approach marriage expecting that God has a perfect spouse in mind for them, and if they can only find that perfect person to marry, they'll enjoy a marriage as perfect as a romantic fairy tale.
The problem is that such expectations simply aren't realistic. Even worse, those who marry expecting perfect romantic love to result can get so disappointed that they give up on their marriages – missing out on the real love with which God wants to bless them.
Here's how you can avoid chasing fairy tales and discover real love by setting the right expectations for marriage:
Ask God to help you view your marriage the way He does. Pray for the wisdom you need to see your marriage from God's perspective: as a tool for learning how to love more deeply. Reject the mistaken notion that your marriage is about the love that you receive; embrace the truth that your marriage is about the love you give. Be alert constantly to the many ways in which God may use your marriage to teach you to rely on Him and choose loving attitudes and actions toward your spouse. In the process, you'll grow in your ability to love God and other people – and that love will return to bless you.
Give up searching for the perfect spouse so you can find the best spouse. Accept the reality that no one is perfect in this fallen world, so you won't be finding a perfect spouse or be able to be one yourself. However, if you decide to become the best person you can be – which includes relying on God's grace to overcome your imperfections and loving others even though they're not perfect – you can find the best spouse for you: a real person who's willing to partner with you to deal with life's limitations and challenges together.
Cultivate the fruit of the Spirit. While a fairy tale tells you that you need your marriage to be exciting to be successful, God tells you that your marriage can be fulfilling all the time (even when it's not particularly exciting) if both you and your spouse are develop a close relationship with the Holy Spirit, who will help you grow in important qualities: love, joy, peace, patience, kindness, goodness, faithfulness, gentleness, and self-control. So make it a high priority to cultivate these fruit of the Spirit.
Place your confidence in the transforming power of God's grace rather than in the goodness of your family. Don't worry about trying to achieve the perfect family life with your spouse that a fairy tale approach to marriage pressures you to achieve. Realize that a good family isn't an end in itself; it's a means to growing closer to God. Simply aim to build a family with your spouse that: welcomes others in hospitality, acts compassionately to help hurting people, works for more justice in the world, tells the truth, and works out problems to reconcile broken relationships. As you do, God's grace will work in your family to help you and your spouse grow into the people He wants you to become.
Make peace. It's not realistic to expect a conflict-free marriage in this fallen world. But when you and your spouse do encounter conflict, try your best to resolve it peacefully. Let what you learn about living peacefully within marriage help you become a peacemaker in your relationships with other people. Expose violence and stand up to it. Help abused people you know get the help they need to live healthier lives. Encourage the people around you to resolve their conflicts peacefully, and teach them how to do so.
Recently on Engagement & Newlyweds
Have something to say about this article? Leave your comment via Facebook below!
advertise with us
Example: "Gen 1:1" "John 3" "Moses" "trust"
Advanced Search