Moms: Raise Your Sons to Become Men of Character
Whitney Hopler, Live It Editor
Wednesday, December 21, 2005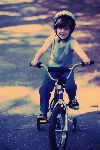 Your son will automatically grow up to become a man. But will he become a good man – a man of character?
As his mom, you have a crucial role to play in helping your son become the type of man God wants him to be. Don't underestimate your influence just because you're the opposite gender; you hold his future in your hands. The way you raise him will likely determine whether or not he can fulfill God's purpose for his life.
Here's how you can help your boy grow up to become a man of character:
Understand gender differences. Realize that, at their very core, males are different from females. You can't expect them to think and feel the way you did as a girl or do now as a woman. Rather than trying to force your son to act like a girl, learn all you can about how God has wired him to act distinctly as a boy. Ask God to give you the wisdom you need to understand and relate well to your son, even though you're the opposite gender.
Recognize a male's four core needs. Know that every boy and man needs a sense of significance in his life. Your son needs to know that his life is a great adventure that means something. Realize that your son also needs other men to be actively involved in his life as role models, mentors, and friends. Understand that he needs a cause to fight for – something noble and bigger than himself. Be aware that your son craves respect and admiration from you and other people. Keep these four core needs in mind constantly as you work to give your son the best in life.
Don't keep your son tied to your apron strings. Understand that boys need to break away from their moms at various stages of life so they can develop a healthy masculinity. Don't take it personally when your son distances himself from you. Refuse to be overprotective. Allow – and even encourage – him to take healthy risks to grow more mature. Don't try to solve your son's problems or shield him from the natural consequences of his mistakes. Instead, help him learn from his failures (which is a vital part of achieving true success in life). Urge him to dream big dreams, and support him as he pursues them.
Learn how to communicate well with your son. There may be days when you wonder if you're really getting through to your son when it comes to even the simplest daily tasks. You find yourself repeating everything to the point of exasperation. When this happens, modify your communiction style.

Be direct, since your son will understand you the most clearly when you're frank and even a bit tough when speaking to him. Don't expect him to understand indirect or subtle statements as females might. Instead, say what you mean, and mean what you say.

Understand that your son is wired to respond to visual stimulation, so remove distractions from his line of vision when you're talking to him. Touch him gently on his elbow or shoulder to get his attention. Avoid lengthy lectures; speak succinctly in brief sound bites, keeping your comments short and to the point so he can successfully process them. Ask him to repeat what you said and ask for clarification of any points he doesn't understand.

For lengthier, more in-depth conversations, tell a story to illustrate your point. Respect the confidentiality of information he shares with you. Understand that he'll be more open to what you have to say if you talk with him in the context of a physical activity he enjoys (such as hiking in the woods or playing a sport together). These activities open up great opportunities to discuss important issues with him while you're spending time together.

Encourage your son to take responsibility of issues by presenting them to him in the format of problems and asking him to help you come up with solutions. Whenever possible, allow your son to end conversations with his input. Give him the respect and admiration he craves by letting him know how proud you are of him. Understand that he'll be motivated and empowered to act on your suggestions when he feels needed.
Have something to say about this article? Leave your comment via Facebook below!
advertise with us
Example: "Gen 1:1" "John 3" "Moses" "trust"
Advanced Search
Listen to Your Favorite Pastors