10 Things Dads Can Do to Fight Hard for Their Sons
Brooke McGlothlin, A Life in Need of Change
Tuesday, June 11, 2013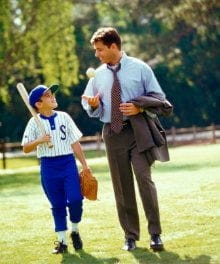 She sat across the table and listened to the story of my family. How my dad and his two brothers were abandoned by their father as little boys…a man who loved alcohol and other women more than he loved his wife and children. How my grandmother fought hard for her sons, and on a wing and a prayer managed to raise three amazing men who stayed…family men by deliberate, willful choice, not because they were shown how by their father.
And her words, whispered to my soul as the story ended, pierced my heart.
"You come from a family that fights hard for their sons."
My grandmother, known as "Cack" or "Kitty Mother" to her nine grandchildren, died when I was 16. And I would give almost anything to have even an hour to ask her how she managed to raise three good men alone.
Good Men
I was blessed to be surrounded by good men as a young girl. Men who loved their families hard, served others faithfully, and stood for something greater than themselves. Men who sacrificed so their families could have the best, and taught their children to work hard and protect what they believed in.
My dad, grandfather, and uncles all called out the beauty within me as they poured truth and love into my heart. Because of their influence, I chose to marry a good man who respects me and believes in my dreams, and I know that much of my confidence in life comes from being loved well by these men.
But not every child has that type of love…
Be a Good Man
Dads, do you know how much influence you have over your children? I know this is a site usually reserved for mothers of boys, but I want to talk to your hearts today. Father's Day is right around the corner, and I want to take this opportunity to call you out into the role God made for you as husbands, fathers, men.
From me to you dads, here are 10 things you can do to fight hard for your sons:
1. Pray for your sons, and let them see you doing it. Those boys need to know their dad is a man of prayer who believes in and needs guidance from his Heavenly Father. Need help knowing how to pray for them? Try praying the prayers in Warrior Prayers: Praying the Word for Boys in the Areas They Need it Most with their mom. It doesn't have to be eloquent to get God's attention.
2. Read your Bible…in front of them. Let them see you go to the Word of God for the answers of life. Teach them what it says and help them apply it to their lives. As the dad, you are the one they will identify with most, so take every opportunity to prove to them that godly men are men worth following.
3. Love and respect their mom. Don't let anything get in the way of your love for the woman who helped you bring those boys into the world. Teach them what REAL love is as they watch you interact with their mom. Even if you're divorced, you can still show them the meaning of love as you treat their mom with respect and show forgiveness and grace.
4. Lead your family well. Make a decision that your family's needs will come before yours. Be willing to sacrifice to give them what they need (not everything they want…totally different subject). Show them what it means to serve by the way you serve them.
5. Play! Teach your boys to have fun with you and their mom! Invest in having fun together so they will enjoy being around you. This will come in handy as they grow up and face temptations to have fun in ways that can harm them.
6. Do what you say you're going to do. Be a man of integrity…the same at home as you are in public. Be honest and truthful in your work, and teach them to work hard for the things they want in life.
Have something to say about this article? Leave your comment via Facebook below!
advertise with us
Example: "Gen 1:1" "John 3" "Moses" "trust"
Advanced Search
Listen to Your Favorite Pastors