Help, My Teen Wants to Date!
Shannon Perry, If The Shoe Fits
Tuesday, October 01, 2013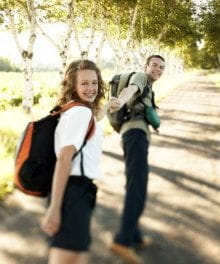 When Tommy came to visit my office, he was very upset about his girlfriend breaking up with him. They went to church together, and he could not understand how she could dump him. He was the quarterback of the football team, voted "best looking" at school and was always the life of the party. As Tommy shared more of his story, it became clear why his girlfriend left him. Tommy believed he was entitled to call his girlfriend a "broad." This was embarrassing to Tommy's girlfriend and she asked him to stop. The term always got him a laugh from his peers, so he refused, telling her she was unreasonable. Tommy found that his good looks and charm were not enough to excuse his hurtful behavior and he lost his girlfriend as a result. As Tommy and I discussed his options, he agreed that an apology was in order and agreed to make better choices.
How do we help develop character in our teens and help them make good choices? We focus on the heart. What emanates from the heart is what we believe about God, ourselves and others. Teens find other teens attractive who feel good about themselves and we feel best about ourselves when we're living true to our heart's convictions. When teens are living by Godly morals and standards that have been taught in the home, they make better choices for their dating lives.
God gives some great guidelines in His Word about dating and, as parents, we must reinforce these guidelines in order to offer our teens wisdom on dating. II Corinthians 6:14 says, "Do not be yoked together with unbelievers. For what do righteousness and wickedness have in common? Or what fellowship can light have with darkness?" God is reminding us of a very important command that will save our teens much heartache in the long run. If your teen is a Christian, they are to date and marry only those who have a heart after God's heart. Statistics show that when teens date non-Christians they are more likely to marry non-Christians. When our Christian teen enters into a relationship with a non-Christian, inevitable heartache is the result because it goes against God's Word. Your teen can avoid the drama that often goes with dating by simply dating God's way.
Several issues arise when our teens begin dating and parents often ask for advice. The following are some questions I have heard most often. First, at what age should a teen begin dating? While many factors must be taken into consideration, and each situation is different, accountability must be part of your decision. Is your teen accountable for their dating life? Do they talk with you? Do they have a Christian mentor or other adult in their life with whom they will share their dating details? If not, accountability must be put into place before dating begins. When your teen is ready to have someone remind them of Godly standards for their relationship, they may be ready to date. Having an adult who will talk with them about their temptations, and one who will pray with them about their relationship is a sign that your teen is ready to stand accountable for their dating life.
If you would like to be your teen's accountability partner, be sure that you are able to listen objectively. Some things may be tough to hear and you must be able to listen without criticism or judgment. This can be extremely difficult because we want the best for our children and they are a reflection of us.
If you are unable to be your child's accountability partner, allow youth directors, grandparents, pastors, teachers or other Godly adults you trust to speak into your child's life. It's amazing how our teens often "hear" the truth we have been telling them for years when it is spoken from another adult's lips. Pray for those who are speaking into your child's life, and pray for your teen as they listen. Another question we must take into consideration is, "Are they dating for the right reasons?" Many of our teens begin dating for fun and friendship. Others date because they are lacking a true sense of identity. Reminding our teens that they are complete with or without a date is important. Two halves don't make a whole; two WHOLE people make a WHOLE relationship. Remind your teen of their special qualities, and reinforce the importance of finding someone to date who appreciates those positive qualities. Talk with them about the "fantasy" aspect of teen dating. Too many times teens grow disappointed because their date does not live up to the fantasy planted in their mind by the media. Discuss reasonable and fair expectations of dating with your teen.
Have something to say about this article? Leave your comment via Facebook below!
advertise with us
Example: "Gen 1:1" "John 3" "Moses" "trust"
Advanced Search
Listen to Your Favorite Pastors