Parenting and Protecting Daughters in America's Sexual Culture
Dr. Joe McIlhaney, Jr. and Dr. Freda McKissic Bush
Wednesday, February 15, 2012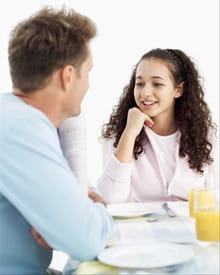 Media Choices: You also need to determine, while your children are still young, how media will be used in the home. If the television is always on and you are constantly on cell phones and at the computer, it is quite natural for the children to follow the same pattern. Media can strongly influence children's behavior, and too much media use displaces other interests, such as physical activities. It also makes it harder for parents to monitor what their child is being exposed to. An excellent resource is by Vicki Courtney, titled Logged On and Tuned Out: A Nontechie's Guide to Parenting a Tech-Savvy Generation.[v]
Encourage Activities: Young people are going to find exciting things to do. Their brains are wired that way. So be intentional about encouraging your daughter toward activities that are both exciting and healthy, such as academics, fine arts, athletics, and volunteer work. Let's face it: They will be involved in something, whether good or bad.
Provide a Positive View of Marriage: If we are going to encourage our daughters to remain abstinent until marriage, we must provide a positive image of marriage. Obviously, the best way is by having a good marriage ourselves. But we need to also remind them that there are countless benefits of marriage. For example, married people are twice as likely as single people or cohabiting couples to say they are "very happy,"[vi] have more sex than sexually active unmarried people,[vii] and are more faithful than those involved in other relationships.[viii]
Affirm Second Chances: Even if an older teen has done some things that could really hurt her future, many of the principles we have been discussing still apply. Continue "connecting" with your child. Continue showing unconditional love. Continue offering guidance. If, for example, you learn she has begun having intercourse, talk to her about "secondary virginity" (remaining abstinent from this point forward until marriage). Explain that her life is not over and her body is not worthless, just because she has had sex. You never know: Risky behavior and some of its consequences may cause her to finally listen.
These are some of the things you can do to help your daughter grow into the healthy, mature woman you both want her to be. A final word: Relax. Your responsibility is great. So is your influence.
Excerpted with permission from Northfield Publishing from chapter nine of Girls Uncovered (Northfield Publishing, 2012) by Joe McIlhaney, Jr., MD, and Freda McKissic Bush, MD with Stan Guthrie. Dr. McIlhaney and Dr. Bush are board-certified obstetrician/gynecologists with daughters of their own.
---
[i] S.C. Martino, M.N. Elliott, R.Corona, D.E. Kanounse, M.A. Schuster. Beyond the "Big Talk": The Roles of Breadth and Repitition in Parent-Adolescent Communication About Sexual Topics. Pediatrics 2008; 121:e612-e618.
[ii] C.M. Markham, D. Lormand, K.M. Gloppen, M.F. Peskin, B. Flores, B. Low, L.D. House. Connectedness as a Predictor of Sexual and Reproductive Health Outcomes for Youth. Journal of Adolescent Health 2010; 46:S23-S41.
[iii] M.D. Resnick, P.S. Bearman, R.W. Blum, et al. Findings from the National Longitudinal Study on Adolescent Health. JAMA 1997; 278:823-832.
[iv] M.D. Regnerus, L.B. Luchies, The Parent-Child Relationship and Opportunities for Adolescents' First Sex. Journal of Family Issues 2006; 27:159-183.
[v] V. Courtney. Logged On and Tuned Out: A Nontechie's Guide to Parenting a Tech-Savvy Generation. Nashville, TN: B&H Publishing; 2007.
[vi] L.J. Waite, M. Gallagher. The Case for Marriage: Why Married People Are Happier, Healthier, and Better Off Financially. New York, NY: Doubleday; 2000:67.
[vii] R.T. Michael, J.H. Gagnon, E.O. Laumann, G. Kolata. Sex in America: A Definitive Survey. Boston: Little, Brown and Company; 1994:118.
[viii] R.T. Michael, J.H. Gagnon, E.O. Laumann, G. Kolata. Sex in America: A Definitive Survey. Boston: Little, Brown and Company; 1994:101.
Have something to say about this article? Leave your comment via Facebook below!
advertise with us
Example: "Gen 1:1" "John 3" "Moses" "trust"
Advanced Search
Listen to Your Favorite Pastors