A Hunka Hunka Burnin' Love...or Lust?
Kris Swiatocho, The Singles Network Ministries
Thursday, March 07, 2013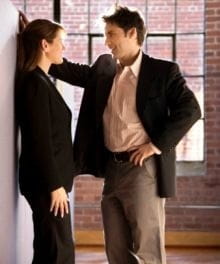 Editor's note: Today's article is the fifth in a series about "fine line" areas of our lives. Areas where we struggle to discern truth from sin. Areas we prefer not to deal with so that we can continue living on the edge, where the "fine line" is. Click here to read about Happiness vs Joy, Judging vs. Accountability, Loneliness vs. Alone-ness, and Gossip vs. Venting
Part 5: A Fine Line: Lust vs. Love
Why does he have to take off his shirt yet again? Doesn't he know that women are gawking at him? Doesn't he know that it is making some of us uncomfortable? That some of us are thinking thoughts that are...well, you get the idea. (I have got to stop watching those butter commercials.)
Yep, a butter commercial. Or how about milkshakes? Or better yet, dusting spray. It seems no matter when you turn on the TV there is someone trying to sell you something using sex to get your attention. Years ago I got so tired of all the horrible commercials and TV shows and movies that I cut the cord to my TV three times only to re-wire it later. Eventually I just got rid of my TV and chose not to watch it for five years. Sure, I watched it in hotels and with my friends and family - but in my own home, I had a problem. Without the accountability of a roommate, spouse or kids, there was just too much that was taking me down the road of lust, which often turned my thoughts to sex. Some of these shows and commercials that seem innocent were actually attacking my mind through my eyes, my ears and my mouth. Where were the TV shows about caring for others without anything in return? Where were the commercial messages that said love your neighbor, not try to jump on them? And due to this constant attack from our TVs (and other media outlets), how is anyone to know the difference? Where is the fine line?
LUST IS:
Lust is always self-focused. When we lust we are in a battle of seeking only to pleasure ourselves. We can lust not only sexually but also for things, jobs, or relationships. We can become so self-focused in our attempts to get these things that we are blinded at the journey…the journey towards death. Because this world will never satisfy you, you will NEVER get enough. Whether what starts with a porn magazine escalates to watching it on the computer, buying a few pairs of shoes turns to dozens, reading one romance novel to joining an addicts club, lust can take over. Lust will begin to feed on your self-focused desires. You will find yourself talking others into become a part of your destructive journey as well. I mean if someone is also committing the same sin, at least you are not alone. But eventually lust will tear down your relationships too and you will BE ALONE.
LOVE IS:
Love is other-focused. When we love, our goals, our purpose, our desires are to please the other person. Whether it's helping someone with their yard work, serving at church, taking a grocery cart back to the store for someone, or dating with respect and honor, all are other focused. When you love someone, you will want the best for him or her. You will want to lift them toward Christ. You will want to build a bridge, not tear one down. When you love another person, you are not thinking of what you are going to get out of it but how God gets the glory. Love does not go too far sexually, yell, intentionally hurt, lie, or cheat. If you have pure love, in all things you will want to show the love that Christ has shown to you. Love leads to relationships and NOT BEING ALONE.
Have something to say about this article? Leave your comment via Facebook below!
advertise with us
Example: "Gen 1:1" "John 3" "Moses" "trust"
Advanced Search
Listen to Your Favorite Pastors